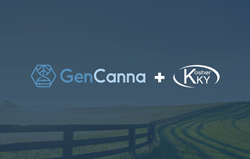 All products manufactured by GenCanna™ in Winchester Kentucky are under the strict supervision of Kentucky Kosher and are accordingly Kosher and Pareve. -Rabbi Avrohom Litvin, Kentucky Kosher International
WINCHESTER, Ky. (PRWEB) March 16, 2018
GenCanna Global Inc.™, world leader in hemp agriculture, innovation and consumer products proudly announces the official Kosher certification of all of its hemp-derived products by Kentucky Kosher International.
The Kosher certification ensures that the processes and products developed by GenCanna™ strictly adhere to Jewish food production traditions and standards. The certification once again demonstrates the value proposition of the GenCanna Production Platform™ (GPP), which guarantees consistency and reliability throughout the entire process of hemp farming, cultivating and product development. Along with the Kosher certification, GenCanna's process and products are non-GMO, gluten free, vegan, and registered and inspected by the Food and Drug Administration and the Kentucky Department of Agriculture — allowing GenCanna™ to provide a vertically integrated and highly compliant process from seed to sale.
Rabbi Avrohom Litvin, who supervised the process wrote, "All products manufactured by GenCanna™ in Winchester Kentucky are under the strict supervision of Kentucky Kosher and are accordingly Kosher and Pareve." The Kosher certification is a tremendous step for GenCanna™, further establishing its track record of industry leading compliance and innovation.
"GenCanna™ is proud to be moving down an accreditation path in 2018 that validates our substantial body of work that is centered around science, compliance and adherence to existing food safety standards," said GenCanna™ Chief Science Officer Chris Stubbs, "Meeting Kosher standards are a great complementation to our efforts and we are happy to announce that all of our bulk offerings are certified Kosher by Kentucky Kosher International. We thank the organization for their foresight and recognition that hemp is food, and that increased access to our high quality hemp food products is a necessary part of hemp's future as a sustainable product made right here in the USA."
To learn more about the Kosher certification process and Kentucky Kosher International, contact Rabbis Avrohom and Chaim Litvin at 502-386-9029 or email kosher(@)kykosher(dot)com.
ABOUT GENCANNA GLOBAL, INC.™
GenCanna Global, Inc.™ is a vertically integrated industrial hemp cultivator and processor located in Winchester, Kentucky. GenCanna™ strives to leverage resources at its Hemp Research Campus to educate and enroll the local community and farming partners. In collaboration with state universities and local agencies, GenCanna™ will continue develop and deploy novel cultivation techniques that enables Kentucky to be leader the industrial hemp industry (learn more at https://gencanna.com/agriculture/). GenCanna™ sustainably grows premium hemp cultivars on fertile Kentucky family farms, and crop processes the harvest for sustainable feedstock. Consistent extraction methods and innovative processing technologies ensure the process exceeds all regulatory standards for the FDA registered and inspected food production facilities (learn more at https://gencanna.com/compliance/). The GenCanna Production Platform™ assures standardized, repeatable quality from farm to finished product.
More information about GenCanna Global, Inc.™ may be found at http://www.GenCanna.com.