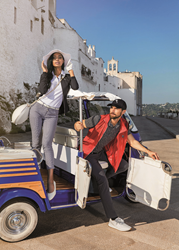 We are committed to taking Chervò to a leading position in America among premium golf brands, as well as introducing our products to a selection of specialty retailers, thanks to our innovative fabrics, style, Italian origin and long-established tradition."-Manfred Erlacher, CEO & Co-Founder
JUPITER, Fla. (PRWEB) March 19, 2018
Manfred Erlacher, CEO and co-founder of Chervò S.p.A., declared: "We are committed to taking Chervò to a leading position in America among premium golf brands, as well as introducing our products to a selection of specialty retailers, thanks to our innovative fabrics, style, Italian origin and long-established tradition."
Peter Erlacher, chief design officer and co-founder, added: "When designing Chervò products, I have in mind a cosmopolitan consumer appreciating performance and beauty, enjoying a refined active lifestyle. "In America - the most challenging market in the world - a wide number of consumers match well with my inspiration. I am confident that, with their personality, they will appreciate our creations that are unmistakably part of Italian fashion heritage."
Chervò USA will be managed by vice president, sales & operations and managing partner Layne Dempsey, who worked in a similar capacity under the former ownership.
Determined to remain a relevant market player, Chervò will continue to launch new collections at the Chicago Collective menswear show and the annual PGA Trade Show held in Orlando in January 2019. With more than 20 million players, the USA benefits from the world's largest golf market, boasting the most apparel brands. Recent years have seen a growing interest in premium European brands from the company's target audience - young, affluent, fashion-conscious and active consumers, both male and female.
Founded in 1982, Chervò S.p.A. develops, manufactures, markets and sells quality active sportswear. It is present in more than 30 countries world-wide and boasts its own sales channels alongside selected distributors and licensees. Chervò S.p.A.'s products are sold in more than 1,000 stores including around 40 Chervò shops, as well as concession shops in some of the most prestigious department stores and golf chains.