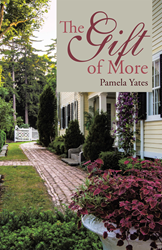 FAIRPORT, N.Y. (PRWEB) March 19, 2018
In 1993, Brock and Pamela Yates were living a charmed life. Happily married, they had successfully blended their families and watched proudly as their children left the nest and found their own way. Unfortunately, everything changed when Yates' then 25-year-old son, Sean, delivered horrifying news: he had a rare and incurable form of cancer. Pamela Yates shares her story in "The Gift of More."
While chronicling both Sean's and her journey through terminal cancer, Yates leads others through a poignant personal story that every mother hopes she will never have to tell. While burdened with a mountain of medical red tape, she details how she, her family, and Sean clung to hope, tried alternate therapies, adapted to in-home care, and finally relented to hospice. As fear and stress began to overshadow everything else, Yates reveals how she fervently prayed and received an insightful answer that provided her with an incredible blessing. Through it all, her story illustrates how illness and loss not only demand tremendous advocacy and faith, but also have the power to teach us about ourselves and those we love.
"This book shares what I learned about my son, myself, and each other," said Yates. "It chronicles our family's relationship, struggles, greater spiritual understanding, including a unique and profound paranormal experience that occurred during Sean's last year of life at home."
"The Gift of More" shares a mother's touching story about courage, faith, and transformation after her adult son is diagnosed with cancer.
"The Gift of More"
By Pamela Yates
ISBN: 9781462411948 (softcover); 9781462411955 (eBook)
Available at Amazon and Barnes & Noble
About the author
Pamela Yates is an author, feature film producer, marketing and PR specialist, and a public and motivational speaker. She was married to fellow author and screenwriter Brock Yates.
General Inquiries:
LAVIDGE – Phoenix
Bryan Beach
480-306-6554
bbeach(at)lavidge(dot)com
Review Copies & Interview Requests:
LAVIDGE – Phoenix
Kiersten Woglom
480-998-2600 x 586
kwoglom(at)lavidge(dot)com