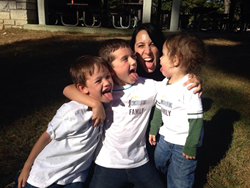 We believe everyone can learn, everyone can communicate, and everyone can participate
DANVERS, Mass. (PRWEB) March 21, 2018
Constellations is pleased to expand their industry leading Applied Behavior Analysis (ABA) services to the state of Massachusetts. The Early Intensive Learning Center will service children with autism and other developmental delays, working to build and strengthen skills such as increased independence, functional communication, and expanding play and social skills.
Jen Allen, MS ABA, LABA, Director of Training and Quality Control, "ABA Therapy has a well-established history of improving the lives of children with autism. The skills gained at young ages serve as the foundation for learning for the rest of their lives."
Tim Heald, MBA, LABA, Executive Director, "Constellations Behavioral Services is known as a center of excellence in the field of ABA. We pride ourselves on the high-quality level of therapy we are able to service in the established science of ABA therapy."
Kim Heald, MS Ed., LABA, Clinical Director, "Our commitment is to the children we work with every day. At Constellations, we believe everyone can learn, everyone can communicate, and everyone can participate. All of this…we do it for the kids."
Constellations Behavioral Services is currently accepting applications and scheduling intake appointments. Please call (800) 778-5560 or email: info(at)constellationsbehavioral(dot)com for more information. Constellations is happy to accept most major insurances and payers.
About Constellations: As a leader in the field of ABA, we have been supporting New England families since 2009, with our leaders supporting for even longer. Our experts work closely with schools and parents to develop and implement Applied Behavior Analysis programs (ABA Therapy) that help children with autism and other developmental delays lead happier, healthier, and more productive lives.
800-778-5560, constellationsbehavioral.com