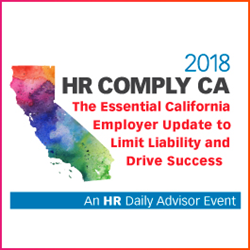 Regulations in California are strict and complex, so this training will keep HR professionals, executives, counsel, and consultants up-to-date on the need-to-know developments.
BRENTWOOD, TN (PRWEB) March 19, 2018
BLR has announced the agenda for the 2018 HR Comply California conference, formerly California Employment Law Update (CELU), California's leading employment law conference. This two-day event, with a bonus day of preconference workshops, features dynamic keynotes and breakout sessions highlighting complex wage & hour scenarios in California, Form I-9 recordkeeping updates and immigration-related management strategies, important legal considerations for background checks and salary history inquiries when hiring in California, and more. The event will be held October 17-19 at the Hilton San Diego Mission Valley in San Diego, CA.
HR Comply California will bring together employment law attorneys and hundreds of HR professionals from across the state to review breaking legislative, regulatory, and judicial developments and strategies to address shifting organizational compliance priorities and strategic focus areas for HR practitioners in 2018. Attendees will learn how to revise and implement workplace policies in accordance with the latest rules and management best practices.
Additionally, attendees will get practical strategies for:

Preventing harassment claims
Accurately managing employee overtime
Mitigating FMLA/CFRA abuse
Understanding the latest regulations for employee drug testing
How and when to use arbitration agreements in California
Abiding by new ADA and EEOC protections
Adjusting your health care policy for a post-ACA world
The latest rights and limitations on marijuana in workplace
State and federal tripwires when terminating employees in California
And more!
"The practicing attorneys and employment law experts at HR Comply California will cover issues that are key to performance and profitability in their state," says Patricia Trainor, JD, SPHR, vice president of content & events for BLR. "Regulations in California are strict and complex, so this training will keep HR professionals, executives, counsel, and consultants up-to-date on the need-to-know developments. What's more, HR Comply California's capacity-capped environment lends to superior peer networking and deep-dive discussions so attendees can get their specific questions answered."
For more information about the agenda, speakers, venue, etc. Visit CAHRComply.BLR.com or call 800-727-5257. Information about sponsorship and exhibitor opportunities is available at http://live.blr.com/hrcomplyca-sponsor/
About Simplify Compliance
Simplify Compliance helps its customers learn, comply, and succeed by providing mission-critical regulatory and business information, analysis, and tools. Serving a range of industries—including financial services, healthcare, human capital management, and telecommunications—Simplify Compliance provides time-saving products and solutions that help U.S.-based businesses and their employees monitor compliance, optimize financial performance, and create and implement best practices.
Simplify Compliance operates the Argosy Group, BLR, CCMI, and H3.Group business units.
About BLR
BLR (Business & Legal Resources) helps U.S. businesses simplify compliance with state and federal legal requirements. In-house experts and an exclusive attorney network provide comprehensive, reliable state-specific information for businesses in all 50 states. Award-winning products and solutions—including training programs, events, web portals, reports, and subscription services—give businesses of all sizes and industries the best tools available at affordable prices. For more information on their offerings, visit http://www.BLR.com.