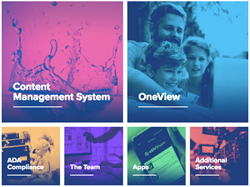 Our tools help educators connect with parents and their communities so they can focus on their number one priority: academic growth.
CLOVIS, Calif. (PRWEB) March 17, 2018
Clovis Unified School District is embarking on a website redesign with eSchoolView to create an accessible presence more helpful to students, staff and families.
The Fresno-area district signed a five-year contract with the Ohio-based company to complete the work. The launch of the new site is expected before the start of the 2018-19 school year, continuing eSchoolView's expansion in the western U.S.
eSchoolView, based in Columbus, creates tailor-made ADA-compliant websites and develops educational management software. Clovis is the company's newest client in California and serves 42,000 students.
Kelly Avants, Clovis' Chief Communications Officer, said district officials were impressed with eSchoolView's client base and capacity to serve a district its size. The firm's award-winning, cutting-edge designs coupled with its affordability were other strong factors.
"We are excited about the prospect of merging our web presence with a mobile app to improve school to home communication and chose eSchoolView because of their willingness to work with us to customize our users' experience," Avants said. "Their products are specifically designed for our environment and will allow us to communicate more effectively with everyone from our internal teams to students, parents and the greater community."
Clovis' new web presence will be complete with a responsive mobile site, mobile application and an alert notification system, other key selling points. The mobile site — whether accessed from a phone or tablet — will respond to the user's device in real time. The website will be scanned regularly to ensure it complies with required federal accessibility standards that enable people with disabilities to use it seamlessly.
The interactive website will be built on a Content Management System (CMS) specifically developed for K-12 schools. Improved navigation will help visitors find what they need more readily and news and events will be displayed front-and-center.
eSchoolView offers personalized training and support as part of all of its competitively priced contracts — an important element not always included by other providers. Key staff will be taught how to use the system who will train others in the district; support thereafter is unlimited and available by phone, email, virtual sessions and video.
"Our tools help educators connect with parents and their communities so they can focus on their number one priority: academic growth," eSchoolView Executive Director Rob O'Leary said. "We do the behind the scenes work so they can better build strong relationships with those they serve."
eSchoolView works with hundreds of districts and educational organizations across the country, from California to the Midwest and New York to Georgia. It has offices in Charlotte and in central Arizona and been named to the Inc. 5000 list of fastest growing privately held companies in the U.S for four consecutive years.