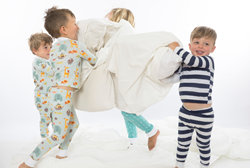 What parent wouldn't try a solution that eliminates the need for them to continually wash sheets every time their child wets the bed?
SALT LAKE CITY (PRWEB) March 16, 2018
Offering a new, more eco-friendly and affordable alternative to disposable diapers while helping children speed up the potty-training process, Peejamas have now attracted more than $62,000 in backing on Kickstarter.
"We're excited that the response to Peejamas has been so strong that it allowed us to unlock one of our campaign stretch goals so that we can now offer Peejamas up to size 7 for boys and girls," said Peejamas Founder and CEO Craig Hammond. "These backers will be the first to experience the new, better way to potty-train their children more quickly – and more affordably and in a more sustainable method compared to the traditional disposable diaper."
Called "super cute" by Parent.com, Peejamas are available for another two weeks at an early-bird discounted price on Kickstarter.
Peejamas are stylish, functional pajamas that eliminate the need for nighttime diapers. Made with highly absorbent, re-washable materials, Peejamas capture and contain urine and can be washed over 300 times before they lose their absorbency.
Hammond developed the concept for Peejamas while he and his wife were potty-training their three-year-old son – faced with the choice of either putting him in a pull-up at night, which nearly guaranteed that he would pee in it, or letting him go diaper-less and taking the risk of him peeing in the sheets in the hopes of potty-training more quickly.
"Neither alternative was a very good option, and we couldn't find any product on the market that could solve our dilemma," Hammond said. "Peejamas offers parents that new solution – an alternative to disposable diapers that's more effective in potty-training their children more quickly, more affordably and more eco-friendly for our environment, as well."
In addition to speeding the potty-training process, Peejamas are designed to keep unnecessary chemicals, like fire-retardant substances, from touching toddlers' skin. Peejamas are also 66 percent cheaper on a per usage basis compared to disposable diapers, and when the cost of the pajamas is factored in, the cost-savings are even greater.
"We created Peejamas with both children and their parents in mind," Hammond said. "What parent wouldn't try a solution that eliminates the need for them to continually wash sheets every time their child wets the bed? That's a big time-saver during potty-training, since tossing a pair of pajamas in with the rest of the dirty laundry is much easier and more convenient than pulling the sheets off the bed to wash them - especially on consecutive nights every week."
Parents who shift to using Peejamas will also know they are having a tremendously positive impact on the environment – removing thousands or millions of disposable diapers from reaching landfills each year.
For more information, and to purchase Peejamas at an early-bird discount during crowd-funding, visit the Peejamas Campaign Page on Kickstarter.