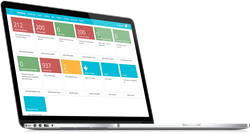 Healthicity is committed to simplifying the complex and outdated approach to healthcare compliance
SALT LAKE CITY (PRWEB) March 20, 2018
Healthicity, a provider of compliance software solutions, today announced a partnership with athenahealth, Inc. through athenahealth's 'More Disruption Please' (MDP) program. As part of the athenahealth® Marketplace, Healthicity's Compliance Platform is now available to athenahealth's growing network of 111,000 healthcare providers to deliver a simple, streamlined approach to ensure the effectiveness of their organizations' compliance programs and boost the efficiency of compliance auditing.
"Healthicity is committed to simplifying the complex and outdated approach to healthcare compliance," said Barry Johnson, president of Healthicity. "Healthcare organizations-of all shapes and sizes-are still using spreadsheets and file folders to document and audit their compliance programs. With so much potential risk involved, we think we can help them do better."
athenahealth is a network-enabled, results-oriented services company that offers medical record, revenue cycle, patient engagement, care coordination, and population health services for hospital and ambulatory clients. The company's vision is to build a national health information backbone to help make healthcare work as it should. As an MDP partner, Healthicity joins a network of like-minded healthcare professionals who are looking to disrupt established approaches in healthcare that simply aren't working, aren't good enough, or aren't advancing the industry and help providers thrive in the face of industry change.
To learn more about Healthicity's new integrated application, please visit Healthicity's product listing page on the Marketplace.
About Healthicity
Healthicity (http://www.healthicity.com) creates software and services designed to help physician groups, ACOs, hospitals and payers simplify their compliance efforts and elevate performance. Healthicity provides a suite of solutions and services for healthcare compliance, auditing, coding, training and analytics.