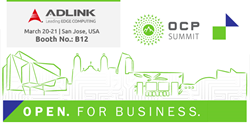 The need for operators to integrate multiple hardware and software assets is one of the most critical factors in NFV/SDN and Multi-access Edge Computing – or MEC -- deployments in the next few years
SAN JOSE, Calif. (PRWEB) March 16, 2018
ADLINK will be featuring the Open Compute Project (OCP) carrier grade CG-OpenRack-19 solution at the OCP Summit in Booth 12 on March 20-21 in San Jose, CA.
The OCP-ACCEPTED™ OpenRack, OpenSled configuration marks a significant milestone in the evolution of OCP CG-OpenRack-19 as it continues the expansion of OCP-CG open architectures. The specification offers telecom data center operators the benefits of open platform standards combined with the needed carrier-grade and environmental enhancements required for Edge Computing in telecom data center environments. The open system approach drives innovation in the market and allows operators to avoid vendor lock-in that comes with propriety solutions. In addition, the multi-vendor solution offers seamless support across the sales and integration cycles.
"As the networking and communications market continues to transform itself into a virtualized network, including Edge Computing technologies, the need for operators to integrate multiple hardware and software assets is one of the most critical factors in NFV/SDN and Multi-access Edge Computing – or MEC -- deployments in the next few years," said Jeff Sharpe, director, strategic product planning at ADLINK.
The CG-OpenRack-19 specification is the result of OCP's Telecom Working Group, which develops open architecture for carrier grade, frame-level solutions. The OCP-ACCEPTED™ OpenSled spec, based on ADLINK's OCCERA (Open Compute Carrier-grade Edge Reference Architecture), enhances the original spec by providing definitions for the internal configuration options of the CG-OpenRack-19 sled, including options for key appliances to utilize additional components inside the sled. The specification is designed mainly for network deployed products for telecom specific applications, for example: DPI, security, policy, media and transcoding.
Sharpe added that ADLINK will continue its collaboration efforts, which will allow the company to provide useful specifications for full-width sleds, storage and other key technologies consistent with OCP-CG infrastructure.
For more information on ADLINK's OCCERA, please visit our website.
About ADLINK
ADLINK Technology is leading edge computing with solutions that drive data-to-decision applications across industries. ADLINK provides robust and reliable hardware platforms, data connectivity, and complete Industrial Internet of Things (IIoT) solutions to serve a wide variety of industries, including networking and communications.
ADLINK is a Premier Member of the Intel® Internet of Things Solutions Alliance and is active in several standards organizations and interoperability initiatives, including PCI Industrial Computer Manufacturers Group (PICMG), PXI Systems Alliance (PXISA), Standardization Group for Embedded Technologies (SGeT), European Telecommunications Standards Institute (ETSI), and Open Compute Project (OCP).
ADLINK offers R&D and integration in the US, Germany, Taiwan and China; volume manufacturing in Taiwan and China; an extensive network of worldwide sales and support offices; and a continually expanding partner ecosystem. ADLINK is ISO-9001, ISO-14001, ISO-13485 and TL9000 certified and is publicly traded on the TAIEX Taiwan Stock Exchange (stock code: 6166). Please visit http://www.adlinktech.com for more information.