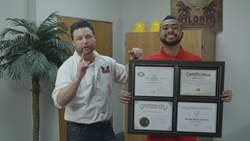 Aloha Restoration, on the other hand, does it all
LAKE ZURICH, Illinois (PRWEB) March 15, 2018
This month, local water removal and remodeling experts Aloha Restoration, Co. launches the first of a series of television commercials! For those local to Lake County, Illinois, the commercial aired this week and the series runs through the end of the new year. Featuring Aloha Restoration, Co.'s President and CEO, David A. Farbaky, the advertisement will air on major networks such as ESPN, the History Channel, TLC, LMN, Discovery Channel, and more.
David Farbaky, also the President and CEO of local roofers and siding contractors Aloha Construction, Inc., says "Honestly, I never thought I'd be in front of the camera myself, but I felt the urge and need to deliver our message directly and personally. While I'm no actor, I can talk all day about the unique value proposition of our company [vs. theirs]."
Without revealing too much about the future commercials, Farbaky says the core message is centered around Aloha Restoration, Co. being a full-service group of contractors. Farbaky adds: "When people reach out to our competition, they don't realize they aren't going to get their property back to pre-disaster condition. If you call for help with mold removal, water mitigation, or fire restoration; that is all you will get. If they gut drywall, they won't put the wall back up or even paint it. You'll have to find other contractors for that. Aloha Restoration, on the other hand, does it all."
For more information, please see their Youtube channel here: https://www.youtube.com/watch?v=OwqU5Vt0ouc&feature=youtu.be
ABOUT ALOHA CONSTRUCTION, INC. & ALOHA RESTORATION, CO.
Aloha Construction, Inc. is a family-owned company of bonded and insured General Contractors providing services for all of Illinois and Southern Wisconsin. They proudly assist those in Lake, McHenry, Cook, and DuPage counties via their Lake Zurich location and in the McClean, Peoria, Washington, Tazewell, and Champaign Counties via their Bloomington office.
Specifically servicing the entire Lake County area, their newest division Aloha Restoration, Co. is a local home remodeling and clean up company that specializes in mold removal & remediation, water mitigation services, fire damage restoration, and home remodeling of all kinds.
To learn more about Aloha Construction, Inc. please visit their headquarter's website or call 847 540 7711 for a free expert inspection.
To learn more about Aloha Restoration, Co. please visit their new website at https://aloharestorationco.com or call 847 865 5664 for a free in-home assessment.
Aloha Construction, Inc. & Aloha Restoration, Co. are both fully licensed, bonded, and insured.