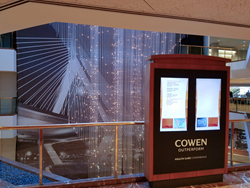 (PRWEB) March 16, 2018
Niche Marketing & Promotions, Inc. https://www.nichemp.com/ and Merritt Graphics BIG COLOR http://www.merrittgraphics.com/big-color/home partnered to deliver high impact branding for Cowen's 38th Annual 2018 Healthcare Conference held at The Boston Marriott Copley Place, Boston, Massachusetts, March 12 - 14, 2018. The 2018 annual Conference had special significance as it represented Cowan's 100 year anniversary.
Cowen is a world wide company with a mission to help clients "OUTPERFORM". In an investment world increasingly occupied by passive, beta-centric investing, Cowen focuses on delivering value-added capabilities to those clients who seek to outperform their peer groups. Cowen supports active portfolio managers with sophisticated equity and credit research, insightful investment ideas, non-conflicted trading and execution services, comprehensive brokerage solutions and high quality capital markets transactions.
Cowen hosts 10-15 major industry-specific conferences annually attracting top institutional investors and leading companies in multiple sectors including Health Care, Technology, Media & Telecom, Consumer, Energy, Aerospace and Defense, Industrials and Transportation.
About:
Utilizing existing interior event space structures, the companies created an environment that maximized the event meeting space. Niche Marketing & Promotions, Inc. designed subtle yet effective messaging by utilizing hi impact graphic enhancement treatments for Merritt Graphics BIG COLOR to install.
As registered guests arrived at the meeting site via the Marriott's elevators, they were greeted by a temporary rebranding of the permanent Directory kiosks showing Cowen's company theme of "OUTPERFORM". From there the guests were led to The Main Registration area which was completely rebranded with short term application wall graphics for the 3 day event. As the guests transitioned to the individual meeting rooms, they were led down branded hallways that also had high impact graphic wraps installed onto the rounded and rectangular columns. All throughout the event space, the "OUTPERFORM" theme was displayed. Based on the positive response from Cowen and Cowen clients, the event branding produced an elegant and professional tie in to the Special Event.