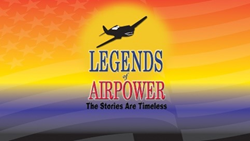 "We're showing that these were ordinary people who did extraordinary things when called upon by their country," Russ Hodge, President of 3 Roads and Executive Producer of the series.
FREDERICK, Md. (PRWEB) March 16, 2018
Legends of Airpower, the groundbreaking aviation history series that has been broadcast on Public Television, Speed Network, Discovery Wings and Discovery Military Channel is set to take-off again this May.
The iconic, 52-episode, award-winning series profiles fifty-two men and women who defined and revolutionized air power in America and across the world.
The series offers an open perspective into the personal and professional lives of each Legend, showcasing interviews and timely footage to enhance the narrative. Featured are exclusive interviews with Legends such as Chuck Yeager, John McCain, Jim Lovell, Buzz Aldrin, and Paul Tibbetts.
Not only are household names showcased, but also lesser-known airpower figures such as General Benjamin O. Davis, the WWII leader of the Tuskegee Airmen, Jimmy Doolittle – profiled in 30 Seconds Over Tokyo, and Billy Mitchell, who correctly predicted the Japanese attack on Pearl Harbor a decade before it happened.
Produced by 3 Roads Communications, Inc., each thirty-minute biographical program profiles a separate Legend, taking the viewer on a journey of humble upbringings to exceptional feats of heroism.
"We're showing that these were ordinary people who did extraordinary things when called upon by their country," said Russ Hodge, president of 3 Roads and executive producer of the series. "We are excited to present viewers a unique experience that shows the impact airpower had on the world and the many men and women who defined it."
The series is expected to begin broadcast on public television stations across America in time for Memorial Day weekend. The series will be distributed by NETA (National Educational Telecommunications Association), and partial underwriting for the series has been provided by the Selective Service System.
Narrated by award-winning broadcast journalist Gene Pell, Legends of Airpower is ready to fly again this summer.
Legends of Airpower is available now for streaming on Amazon Prime by clicking here.
To view the promo for the series, click here.
For more information, please visit legendsofairpower.com.
About 3 Roads Communications:
3 Roads Communications, Inc. is an Emmy Award-winning company with a long, distinguished history of supplying top¬notch programming to Public Television. 3 Roads has created and produced hundreds of hours of award-winning programming for public television, including:

Legends of Airpower, TV series
Frontiers of Medicine, TV series
For The Love of Their Brother, 2016 Documentary
The Truth About Money with Ric Edelman, TV series
Rescue in the Philippines, Documentary
Ric Edelman's The Truth About Retirement, Pledge Special
Ric Edelman's The Truth About Your Future, Pledge Special
About Selective Service System:
The Selective Service System is an independent agency within the Executive Branch of the U.S. Federal Government. The Director of Selective Service is appointed by the President of the United States. Selective Service is not part of the Department of Defense.
About NETA:
The National Educational Telecommunications Association is a professional association that serves public television licensees and educational entities in all 50 states, the District of Columbia, the U.S. Virgin Islands, and Puerto Rico. Since 1967, NETA's reason for existing has been to connect public television people and ideas, by providing quality programming, educational resources, professional development, management support, and national representation.