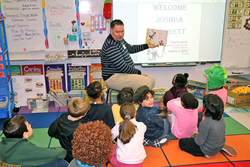 SUITLAND, Maryland (PRWEB) March 16, 2018
"Oh the places we will go," by Dr. Seuss, can be used to accurately describe the places his books would travel to reach children around the world.
Andrews Federal Credit Union's Joshua Barrett, Chievres Branch Manager, recently participated as a reader at SHAPE American Elementary School for Read Across America Day. Launched in 1998 by the National Education Association (NEA), Read Across America is the nation's largest celebration of reading, focusing coast-to-coast attention on the importance and the joys of reading. The event brought leaders and volunteers within the SHAPE and USAG Benelux communities together to read to elementary school students.
"In my second year participating in this event, I have grown to enjoy not only reading to the children, but also watching their priceless expressions as they experience the book being narrated," said Barrett. "There is nothing like witnessing the joy on a child's face as their imagination takes flight from the story that the book is telling."
About Andrews Federal Credit Union
Andrews Federal Credit Union was founded in 1948 to serve the needs of military and civilian personnel by providing a vast array of financial products and services. With over $1.5 billion in assets, Andrews Federal has grown to serve more than 120,000 members in the District of Columbia, Joint Base Andrews (MD), Springfield, Virginia (VA), Joint Base McGuire-Dix-Lakehurst (NJ), and military installations in central Germany, Belgium, and the Netherlands. In addition, the Credit Union serves as a financial partner with many select employee groups in Maryland, the District of Columbia, Virginia and New Jersey.
To learn more about Andrews Federal Credit Union and its community involvement, or to become a member, call 800.487.5500 or visit http://www.andrewsfcu.org.