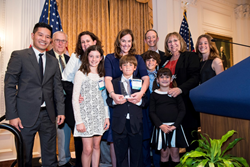 This honor is especially meaningful this year because we are celebrating our 40th Anniversary
HUNTINGTON BEACH, Calif. (PRWEB) March 16, 2018
Teacher Created Materials (TCM) was inducted into the California State University Fullerton Center for Family Business Hall of Fame in a ceremony held on March 13th, 2018 at the Richard Nixon Presidential Library and Museum in Yorba Linda, Calif.
"This honor is especially meaningful this year because we are celebrating our 40th Anniversary", said Founder and CEO, Rachelle Cracchiolo. "I am so proud of our achievements and to be working with my two talented daughters to bring our vision and mission to teachers and students worldwide. And I must acknowledge the incredible TCM extended family of full and part time staff who are always striving to create a world in which children love to learn."
Founded in 1977 by Ms. Cracchiolo, a classroom teacher in the Fountain Valley School District, TCM's award-winning products and services are currently sold into schools in all 50 states and in 89 countries around the world. With 200 employees based at the headquarters in Huntington Beach, as well as around the country and the world, TCM is led by President Corinne Burton and Executive Vice President, Deanne Mendoza, Rachelle's daughters both of whom have a necessary mixture of teaching and business backgrounds.
TCM's partnership with CSUF is long-standing – Rachelle received both her undergraduate and Master's Degrees from the university and in 2006 the company endowed the Rachelle Cracchiolo Exceptional Curriculum Development Award to provide opportunities for CSUF education students to develop their ideas into products.
As a proud Titan, Rachelle is especially excited to give the men's basketball team a shout-out as they head into the NCAA Tournament against Purdue this weekend. Go Titans!
The Center for Family Business is an educational forum organized and under the direction of the Mihaylo College of Business and Economics at California State University, Fullerton. The Center gives its members the opportunity to learn from experts in an academic setting. During each school year, the Center offers workshops on topics of special interest, confidential discussion groups, and informative and entertaining events. The Center also offer CEO Groups, 2nd Generation groups and Women's owners affinity groups for family members.
To be considered for this award, the nominee must be a southern California-based family owned company that has intentions of passing ownership to the next generation.
####
About Teacher Created Materials
Teacher Created Materials is an educational publishing company located in Huntington Beach, California. For 40 years, we have been developing innovative and imaginative educational materials and services for students worldwide. Everything we do is created by teachers for teachers and students to make teaching more effective and learning more fun. Visit us online at http://www.tcmpub.com or follow us on Twitter @tcmpublishing and #mytcm.
About the CSUF Center for Family Business
In 1995 Cal State Fullerton, the third largest business school in the nation, formed the Center for Family Business to assist family businesses in recognizing their common problems and in finding solutions to the unique issues that confront them. The Center's mission is to use education to help family businesses in our region grow and prosper and to keep harmony in the family. For more information, visit https://business.fullerton.edu/Center/FamilyBusiness/About.