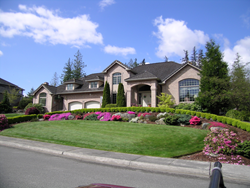 I'm extremely proud of our team for being able to finish this project according to specifications
LAKE ZURICH, Ill. (PRWEB) March 15, 2018
This month, professional home remodelers Aloha Restoration, Co. remodeled their first multi-million dollar home! Located in North Barrington, Illinois, the homeowners were looking for a complete kitchen, bath, and basement remodel. Sticking to the plans and working hand-in-hand with the homeowners, Aloha Restoration, Co. was able to get this interior remodel project done on-time and within the original budget.
David A. Farbaky, President and CEO of Aloha Restoration, Co. and Aloha Construction, Inc., says "Doing work on a property like this is a privilege as much as it is a blessing. Homes this large require a very particular attention to detail as well as serious communication between ourselves and the homeowners. I'm extremely proud of our team for being able to finish this project according to specifications."
To schedule a free in-home remodeling assessment in the Barrington area or anywhere in Lake County, please visit Aloha Restoration, Co's website.
ABOUT ALOHA CONSTRUCTION, INC. & ALOHA RESTORATION, CO.
Aloha Construction, Inc. is a family-owned company of bonded and insured General Contractors providing services for all of Illinois and Southern Wisconsin. They proudly assist those in Lake, McHenry, Cook, and DuPage counties via their Lake Zurich location and in the McClean, Peoria, Washington, Tazewell, and Champaign Counties via their Bloomington office.
Specifically servicing the entire Lake County area, their newest division Aloha Restoration, Co. is a local home remodeling and clean up company that specializes in mold removal & remediation, water mitigation services, fire damage restoration, and home remodeling of all kinds.
To learn more about Aloha Construction, Inc. please visit their headquarter's website or call 847 540 7711 for a free expert inspection.
To learn more about Aloha Restoration, Co. please visit their new website at https://aloharestorationco.com or call 847 865 5664 for a free in-home assessment.
Aloha Construction, Inc. & Aloha Restoration, Co. are both fully licensed, bonded, and insured.