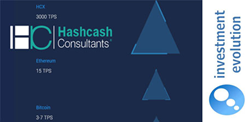 As an enterprise, you don't want to remain an affiliate of another network. Be the network. Get access to HC NET partners through interoperability with our network. List your digital asset on our exchange and get trading going, said by Raj Chowdhury, MD, Hashcash Consultants
SAN FRANCISCO (PRWEB) March 19, 2018
California based Blockchain company, HashCash Consultants has partnered with Singapore based Investment Evolution Coin Ltd ("IEC Ltd"). The announcement was made on March 14 and can be accessed here.
IEC Ltd will be owned by the same shareholders of IEG Holdings Corporation who hold IEGH shares on April 30, 2018. Paul Mathieson is the Chairman/CEO and largest shareholder of both IEC Ltd and IEGH. IEGH is an SEC reporting public company that provides online $5,000 and $10,000 unsecured consumer loans in 20 US states via its website.
Based on other announcements this year, Alfa-Bank, Russia's largest Commercial Bank, earlier declared that it partnered with HashCash to set up a Domestic Payment Ecosystem on HC NET. German Banks such as Commerzbank also joined the network for blockchain based cross-border payments. Singapore's UOB, India's Yes Bank and currency exchanges in UAE among others declared collaborating with HashCash.
Alongside the collaborations with global financial organizations, HashCash Services unit is working with corporations around the world to tokenize their products and services.
In this business model, HashCash is setting up independent HC NET based Blockchain networks for corporations around the world.
These corporations have complete control over the blockchain network and its assets.
These networks are interoperable with HashCash network, HC NET.
HashCash further enables these corporations to get a head start on the trading of their digital asset by listing them on PayBito, if their digital asset qualifies for listing.
PayBito is a multi-currency, multi-signature, SegWit enabled global trading platform for digital assets.
Once they have a certain trading volume on PayBito, HashCash Consulting unit works with them to list their digital asset in other global trading platforms.
In a statement to the media earlier, Raj Chowdhury, Managing Director of HashCash said, "To the enterprises that are in for the long haul: don't build Ethereum tokens and lame ICOs. Build your own network and your own digital asset. As an enterprise, you don't want to remain an affiliate of another network. Be the network.
"Get access to HC NET partners through interoperability with our network. List your digital asset on our exchange and get trading going.
"Use HC line of products to make your blockchain network useful to your enterprise and your digital asset meaningful to the traders."
Another representative from HashCash told the media that, "The only way to grow and remain as the most prolific blockchain network is by building an ecosystem around it, by achieving true interoperability with other blockchains built on HC NET protocol. The end goal is to create the most value for all participants of the network."
About Hashcash Consultants:
HashCash Consultants started as a Blockchain Consulting Company in California in 2015. Today, HashCash products enable enterprises to move assets and settle payments across borders in real-time using Blockchain Technology. Banks, Corporate Houses, Domestic Payment Networks, FinTech Companies, and Currency Exchanges use the HC Network for Retail Remittances, Corporate Payments, Trade Finance, and Payment Processing. HashCash has 100+ enterprises using its products in 26 countries.
About Investment Evolution Coin Ltd:
IEC Ltd is a Singapore company launching a new cryptocurrency, in May 2018, to be called Investment Evolution Coin ("IEC"). IEC will initially be used to facilitate fast and free remittances to the Philippines by Filipino Overseas Foreign Workers located in Singapore, USA and Australia.