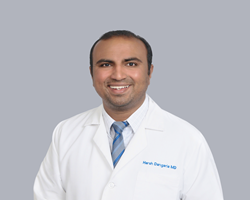 JACKSONVILLE, Fla. (PRWEB) March 20, 2018
As part of its growth and commitment to serving a wider patient sector in Florida, Physician Partners of America (PPOA) is pleased to announce that Harsh Dangaria, M.D., has joined its newest interventional pain management clinics in Jacksonville and Orange Park, Fla. The practices were acquired from Sunshine Spine and Pain in January.
Dr. Dangaria is double board-certified in pain management as well as physical medicine and rehabilitation. His expertise is treating many types of pain conditions through nonsurgical interventional treatments. He has contributed to a wide variety of peer-reviewed journals and textbooks, and presented at academic meetings.
He is equally recognized for treating patients with compassion and individualized care. In fact, he was honored with a civilian recognition award by Georgia Gov. Nathan Deal.
Dr. Dangaria earned his Bachelor of Science degree in Biology from the University of Wisconsin and his medical degree with honors from St. George's University School of Medicine in Grenada. He completed his residency and fellowship training at Brooklyn Hospital Center in New York, Temple University Hospital in Philadelphia, and Georgia Pain Physicians/National Pain Care.
Born in Gujarat, India, Dr. Dangaria speaks English and Hindi.
Patients can make appointments with Dr. Dangaria at two convenient locations by calling (904) 292-2700. The Jacksonville clinic is located at 11705 San Jose Blvd, Suite 110, Jacksonville, FL 32250. The Orange Park clinic is located at 2021 Kingsley Avenue, Suite 109, Orange Park, FL 32073. Same-day appointments are available.
About PPOA:
Headquartered in Tampa, Fla., Physician Partners of America (PPOA) is a fast-growing national healthcare company that manages a wide range of medical practices and service lines. These include including interventional pain management, laser-assisted minimally invasive spinal procedures, orthopedics, psychology, personal injury, Workers' Compensation, and AAAHC-accredited ambulatory surgery centers and procedure suites. Its ancillary division includes imaging, a medical supply distributorship, pharmacies, a COLA-accredited high-complexity quantitative toxicology lab and a COLA-accredited pharmacogenomics lab.
PPOA was founded on the idea of strengthening the doctor-patient relationship and improving patient outcomes by acquiring medical practices and employing partner physicians so they can focus solely on the practice of medicine.
PPOA and its affiliates share a common vision of ensuring the safety and well-being of patients, and combating the opioid crisis through interventional pain management modalities. For information about Physician Partners of America, visit http://www.physicianpartnersofamerica.com.