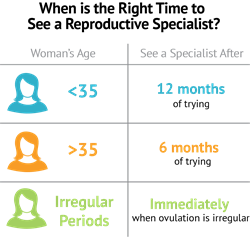 Nearly 50% of the patients self-refer, meaning they don't necessarily wait for a referral from another doctor in order to be seen by a fertility specialist.
ROCKVILLE, Md. (PRWEB) March 16, 2018
A recent Shady Grove Fertility survey revealed that 83 percent of respondents were proactive about seeking fertility care, meaning they "sought help early, asked questions of their doctor, and researched fertility options."
"Many patients think they need a referral from a primary care provider or an OB/GYN to be seen by a fertility specialist. However, in our practice, it's quite the contrary, and nearly 50 percent of the patients we see self-refer, meaning they don't necessarily wait for a referral from another doctor in order to be seen by one of our specialists. This is particularly encouraging, as fertility treatment outcomes are more favorable with early diagnosis and intervention," says Dr. Barbara Osborn of Shady Grove Fertility's Sibley-Washington, D.C. location.
The general recommendation for when it's advised to seek a fertility evaluation is aligned closely with the definition of infertility, as established by the American Society for Reproductive Medicine (ASRM), which recommends a couple see a reproductive endocrinologist if they have not been able to conceive within 12 months of having regular, unprotected intercourse. If a woman is 35 or older, the couple should see a fertility specialist if she has not become pregnant after 6 months of having regular unprotected intercourse. If a woman is younger than 35 but has a family history of early menopause, other health problems that can cause early menopause, or has had certain cancer treatments, it's advised to see a specialist sooner.
Other reasons that warrant an early fertility evaluation include irregular (absent, painful, or heavy) menstrual cycles, more than two miscarriages, a diagnosis of endometriosis (prior to endometriosis treatment), or a known male factor, as infertility is attributed to a male factor in 40 to 50 percent of cases. No matter a woman's age, if ovulation is irregular, seeking the help of a fertility specialist can often help overcome difficulty in getting pregnant.
"We have seen more of our patients coming to us earlier in the process, and not waiting years before seeking help. On average, it takes a couple 5 to 7 months to conceive, so while we remind patients there's no need to become concerned if it's taking more than a few months to get pregnant, we also advocate for seeking an evaluation sooner rather than later. The majority of our patients tell us they wish they hadn't waited as long as they did before seeking help," adds Osborn.
"Our goal as a practice is to educate the community and our patients that early fertility intervention offers the best chances of success and also reassure patients that IVF is not their only option," says Osborn.
The practice, which now has 28 locations throughout Maryland, Pennsylvania, Virginia, Washington, D.C. and Georgia offers dozens of patient education events each year that consist of in-person seminars and virtual webinars hosted by their physician experts. Their most popular in-person seminar "What to Expect When You're Not Expecting" walks attendees through the different touchpoints of the fertility journey including the fertility evaluation, what to expect during the fertility consult, and much more.
"Arming our patients and prospective patients with knowledge about infertility and when to seek help gives them the foundation to make informed decisions. We realize in this digital age that information is just a click away, but it's not always the most accurate information. Many myths and misconceptions abound, which makes it even more important for individuals and couples to sort fact from fiction based on their personal medical history and circumstances with a physician who specializes in this ever-evolving field," adds Osborn.
To learn more about infertility and when to seek help from a specialist, the Shady Grove Fertility website offers more information.
About Shady Grove Fertility (SGF)
SGF is a leading fertility and IVF center of excellence with 50,000 babies born and counting. With 41 physicians and 28 locations throughout MD, PA, VA, D.C., and GA, we offer patients individualized care, accept most insurance plans, and make treatment affordable through innovative financial options, including treatment guarantees. More physicians refer their patients to SGF than any other center. Call 1-888-761-1967 or visit ShadyGroveFertility.com.