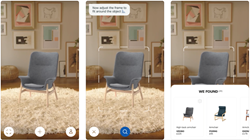 "After one meeting and demo with GrokStyle, I was convinced we had to do this now," said Michael Valdsgaard, Leader of Digital Transformation for IKEA. "GrokStyle has been a perfect integration partner, and to have visual search that works this well at this stage is pretty exciting."
SAN FRANCISCO (PRWEB) March 16, 2018
GrokStyle, a provider of vision-based AI solutions for retail, today announced that it has been selected by IKEA to power visual search for the globally recognized retailer's IKEA Place augmented reality app. With this integration, the AR experience has been enhanced so that users can now easily take a picture to search for a product and visualize it in their home.
GrokStyle has developed award-winning visual search technology to meet the specific needs of retailers. The core technology is based on groundbreaking research conducted by the founders at Cornell University, which is frequently cited by followers in the field of visual search and supported by two National Science Foundation Grants. The company was selected as one of the 100 most promising AI companies in the world in 2017 by CB Insights and won the 2016 LDV Vision Summit Entrepreneurial Challenge.
"When I saw GrokStyle, I was as impressed as I was when I first saw ARKit. We have been interested in visual search for years, and have looked at many solutions, but didn't have it on the roadmap for this version. After one meeting and demo with GrokStyle, I was convinced we had to do this now," said Michael Valdsgaard, Leader of Digital Transformation for IKEA. "GrokStyle has been a perfect integration partner, and to have visual search that works this well at this stage is pretty exciting."
GrokStyle's founders, Dr. Sean Bell and Prof. Kavita Bala, are recognized leaders in computer vision and AI, and are backed by an equally talented team from leading corporations and academic institutions including Google, Wayfair, and MIT. With an expertise in the needs of the home furnishing industry, GrokStyle's team has built a visual search AI platform that reliably provides industry-leading retail solutions.
"IKEA Place is the perfect showcase for our capabilities, combining leading edge technologies to provide an optimal customer experience. Together, we are demonstrating how advanced technology can play an important role in helping people confidently make design choices," said Sean Bell, Co-Founder and CEO, GrokStyle.
According to Co-Founder and Chief Scientist Prof. Kavita Bala whose expertise spans vision, graphics, and human perception, "GrokStyle's visual search achieves its accuracy and performance by innovative deep learning solutions that are tailored to the needs of retail. Visual search coupled with AR is a potent combination that will change how people envision and design their homes and living spaces."
About GrokStyle
GrokStyle, the San Francisco-based leader in vision-based AI solutions for retail, was founded in 2015 based on research conducted in Cornell University's Computer Science Department by founders Dr. Sean Bell and Prof. Kavita Bala. The company is focused on providing retailers with solutions that elevate the consumer experience by simplifying, speeding, inspiring and expanding product discovery. To learn more, visit GrokStyle at grokstyle.com.
https://twitter.com/grokstyle
https://www.linkedin.com/company/grokstyle/
https://www.facebook.com/grokstyle/
Media Contacts
David Templeton
(203) 530-0458
press(at)grokstyle(dot)com
Marie Domingo
(650) 888-5642
press(at)grokstyle(dot)com