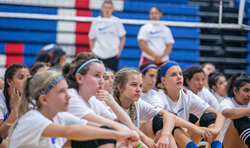 This is a great opportunity for athletes to improve their game, have fun, and make new friends.
SAN RAFAEL, Calif. (PRWEB) March 20, 2018
Camp will be held at St. John's School in their state-of-the-art facilities and is geared towards girls looking to develop and build on fundamental skills.
This Texas Volleyball Camp is for athletes who want to advance their skills and improve through focused instruction. Voltra club coaches will run a camp geared towards beginners that focuses on fundamentals and building a solid foundation in volleyball. They will also run a camp for intermediate to advanced players, entering or already in high school, who want to focus on refining their stills and becoming stronger players.
Voltra is an organization that believes in optimizing performance through max repetition. Their coaching style focuses on breaking down each player's movements, and then building them back up to perfection. They work on one skill at a time to ensure focus, so players develop good habits. Voltra's top coach, Karen Morgan, will be directing this camp along with her team of elite coaches. She also currently serves as St. John's Head Volleyball Coach.
"Karen Morgan and all the Voltra coaches are exceptional, so we are thrilled to work with them to to offer these summer volleyball camps in Houston this summer," says Siera Love, VP of Nike Volleyball Camps. "This is a great opportunity for athletes to improve their game, have fun, and make new friends."
This half day volleyball camp at St. John's School will run Monday-Thursday, 3 hours each day, and will offer both beginner and intermediate/advanced sessions. The Beginner Camp is open to girls, ages 7-18, looking to learn fundamentals and develop volleyball basic skills. The Intermediate/Advanced Camp is open to girls, ages 13-18, who have high school or club experience, and are looking to advance to the next level.
Players, coaches, and parents interested in Nike Volleyball Camps can visit http://www.ussportscamps.com/volleyball/nike or call 1-800-645-3226.
About US Sports Camps
US Sports Camps (USSC), headquartered in San Rafael, California, is the world's largest sports camp network and the licensed operator of Nike Sports Camps. The company has offered summer camps since 1975 with the same mission that defines it today: to shape a lifelong enjoyment of athletics through high quality sports education and skill enhancement.