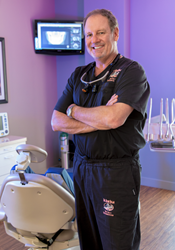 MT. PLEASANT, S.C. (PRWEB) March 19, 2018
Experienced dentist, Dr. Kevin Hogan, now offers BOTOX® treatment for new patients seeking cosmetic enhancements, with or without a referral. BOTOX in Mt. Pleasant, SC, is used to treat wrinkles, crow's feet, frown lines and sagging skin. Patients experience a rejuvenation of youth as they improve their confidence with this cosmetic treatment.
BOTOX targets the underlying causes of lines and wrinkles—the muscles under the skin. When muscles are in constant use, they can become tight and contract, causing deep lines to form. A skilled dentist can inject BOTOX into the overworked muscles, which causes them to relax and restricts excessive movement. This relaxation smooths out the lines and wrinkles around the injection site. Results will begin to appear within the first two days of treatment and can last up to four months. BOTOX can be used to treat a variety of cosmetic concerns, including:

Crow's feet around the eyes
Smile lines around the mouth
Frown lines between the eyebrows
Brow lines across the forehead
Dr. Hogan and his team also offer additional cosmetic dentistry procedures to improve patient confidence and quality of life. Patients can enhance the brightness and color of their teeth with professional teeth whitening or porcelain veneers. Dr. Hogan can perform orthodontics to straighten teeth and is Invisalign® certified so patients can enjoy discreet orthodontic care without the metal brackets. Many patients combine BOTOX treatment with other cosmetic dentistry procedures at the practice to refresh their appearance and receive a smile makeover.
Those seeking BOTOX in Mt. Pleasant, SC, or other cosmetic dentistry procedures, can make an appointment with Dr. Hogan at his practice, Smiles by Hogan, with or without a referral. Patients are encouraged to call the dentist at 843-216-0908 or visit the website at http://www.smilesbyhogan.com for more information.
About the Doctor
Dr. Kevin Hogan is a general dentist providing individualized care for patients in Mt. Pleasant, SC. Dr. Hogan is a graduate of the Indiana University School of Dentistry and has completed hundreds of hours of continuing education courses to stay contemporary with the latest dental technologies. In addition, he has also completed coursework with the Dental Organization for Conscious Sedation and has lectured at the University of North Carolina, Emory University, the Saginaw Valley University and AUA-American University of Antigua on head and neck anatomy and oral pathology. Dr. Hogan is a member of the American Dental Association, International College of Cranio-Mandibular Orthopedics, Academy of Laser Dentistry, International Association of Physiologic Aesthetics, Institute for Advanced Laser Dentistry, DOCS (the Dental Organization for Conscious Sedation), International Congress of Oral Implantologists and the South Carolina Dental Association. He is also a past member of the American Straight Wire Orthodontic Association, Maxillofacial Orthopedic Growth and Development, the American Academy of Pediatric Dentistry and the Functional Orthodontic Society. He and his team are dedicated to providing exceptional oral care to patients through personalized treatment plans. To learn more about the services offered by Dr. Hogan, please visit his website at http://www.smilesbyhogan.com or call 843-216-0908.