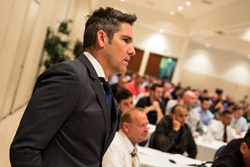 You can have whatever you can dream
MIAMI (PRWEB) March 19, 2018
Grant Cardone will deliver an intensive, 3 day training next month in Miami exclusively for entrepreneurs and sales professionals. The goal of the event is to develop a bulletproof sales process for each attendee as Cardone plans on having an interactive experience that includes question and answer sessions. Additionally, the event will focus on how to build a pipeline bursting with prospects while mastering the art of the close.
"Learn how to control the entire cycle of selling from start to finish, and you'll have the confidence to go where you want, do what you want, sell whatever product you want, and know with complete conviction that you can have whatever you can dream," Cardone says.
Grant Cardone recently developed a multi-million dollar online sales training tool called Cardone University which providing sales organizations, including Fortune 500 companies, with sales training, sales motivation, and sales solutions. It is his intention to deliver the entirety of that training to the attendees of his Sales Bootcamp.
The first Sales Bootcamp was held at Turnberry Isle Marina & Yacht Club in July of 2017. Last year, Cardone shared the stage with other sales trainers, but unique to 2018, this will be a Cardone only event.
Seating is extremely limited. All details and booking information can be found at https://grantcardonebootcamp.com/
About Grant Cardone
Grant Cardone is a New York Times bestselling author, the #1 sales trainer in the world, and an internationally renowned speaker on leadership, real estate investing, entrepreneurship, social media, and finance. His 5 privately held companies have annual revenues exceeding $100 million. Forbes named Mr. Cardone #1 of the "25 Marketing Influencers to Watch in 2017". Grant's straight-shooting viewpoints on the economy, the middle class, and business have made him a valuable resource for media seeking commentary and insights on real topics that matter. He regularly appears on Fox News, Fox Business, CNBC, and MSNBC, and writes for Forbes, Success Magazine, Business Insider, Entrepreneur.com, and the Huffington Post. He urges his followers and clients to make success their duty, responsibility, and obligation. He currently resides in South Florida with his wife and two daughters.