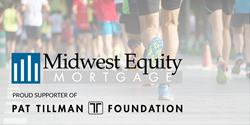 I encourage everyone to register early, come out and support the participants.
TEMPE, Ariz. (PRWEB) March 19, 2018
Registration for the April 21, 2018 Pat Tillman Foundation Pat's Run, sponsored by Midwest Equity Mortgage, is now open. Pat's Run is the signature fundraising event to support the Pat Tillman Foundation's Tillman Scholars program.
Tillman Scholars provides academic scholarships and professional development to veterans, military service members and their spouses, empowering them to make an impact at home and around the world. Family and friends established the Pat Tillman Foundation to honor the legacy of Pat Tillman, who was killed in April 2004 while serving with the 75th Ranger Regiment in Afghanistan. Tillman left his professional football career to join the military in 2002 in the wake of the September 11th terrorist attacks.
Pat's Run begins at 7:05AM. The 4.2 mile run/walk through the streets of Tempe finishes on the north side of Sun Devil Stadium. Registration for the race is currently $50. Participants can register online at https://register.chronotrack.com/r/33133. The field size for the 2018 Pat's Run is limited and there will be no walk-up registration during race week.
"We're proud to support the Tillman Scholars program and Pat's Run, which provides meaningful support to veterans, active duty service members and their spouses by furthering their education so they can make a lasting impact in their communities," said David Hansen, Managing Member of Midwest Equity Mortgage. The lender has partnered with the Pat Tillman Foundation since 2015.
"I encourage everyone to register early, come out and support the participants. If you can't attend, please make a virtual donation using the 'Tillman Honor Run' or serve as a 'Remote Runner' at register.chronotrack.com/r/33135," said Hansen. Awards and post-race festivities to follow the run.
Since its inception, the Tillman Scholar Network has provided over $15 million in support of Tillman Scholars. The mission of the Pat Tillman Foundation is to generate financial support to enrich and enhance the opportunities and educational experiences of veterans, active duty military members and their spouses. Tillman Scholars recipients are already making a difference in the fields of medicine, law, business, technology, education and the arts.
For more information, visit http://pattillmanfoundation.org/pats-run/.
About Midwest Equity Mortgage
Midwest Equity Mortgage LLC is one of the fastest growing private companies in the US, ranked by Inc. 5000. The company helps thousands of homeowners with their mortgages each year. You can reach the lender at 855-767-3434 or https://www.midwestequity.com/.
Midwest Equity Mortgage LLC is an equal housing lender offering residential home loans with options including conventional, FHA, VA, and Jumbo loans. The company holds an A+ accreditation by the Better Business Bureau. NMLS # 227765.