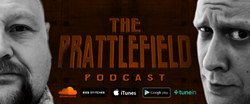 "A laid-back comedy show seemed like the way to go. We love doing it, and I think that's obvious to the listener."
MINNEAPOLIS (PRWEB) March 20, 2018
Critics are calling it "the funniest thing since sliced bread". Well, that's what they would say if they were reviewing it. Actually, they probably wouldn't because it makes no sense. The Prattlefield, a new podcast from Justin Barnett and Chad Martin, is an unscripted comedy show discussing a variety of topics. What makes a "real man?" At what point does a do-it-yourselfer need to acknowledge his limitations? Who decides what's fashionable and what isn't, and how's a guy supposed to know the difference? All this – and more – on The Prattlefield! (http://www.theprattlefield.com)
Barnett and Martin – close friends for twenty years – started the podcast in October of 2017. Barnett has a history of making his friends laugh until it hurts, and Martin is a cynical audio geek, so co-hosting a podcast eventually became a no-brainer for them.
"We've been prattling on and on for years, and we tend to get a kick out of each other, so we figured we might as well record it," Martin says.
Barnett continues, "We love telling stories and making people laugh. No notes or scripts, just a couple of funny people telling stories and talking about stuff people deal with every day."
The podcast was initially just a hobby, a fun diversion from the daily grind. It still is, but as they continued to release episodes, they couldn't help but think about how much fun it would be to have a substantial audience.
"It's one thing for your friends to tell you how much they enjoy the show," Martin says, "but when a complete stranger reaches out and gives the same type of feedback, that's awesome."
"Those bozos already know we're a couple of idiots, so obviously they're going to like the show," Barnett says of their friends. "But our hope is that the allure of our show will extend beyond our friends."
It already has, to some degree. "We're seeing some plays nationally and internationally, so the show is being heard," Martin says. "But we realize we're still small fry."
As podcasts become increasingly popular, it's easy for any show – especially one in its infancy – to get lost in the shuffle. The Prattlefield is no exception.
"Yeah, there are plenty of adult comedy podcasts out there already," Martin says, "but given our personalities, a laid-back comedy show seemed like the way to go. We love doing it, and I think that's obvious to the listener."
The Prattlefield does seem like a podcast worth checking out, even if it isn't the funniest thing since sliced bread.
Whatever that means.