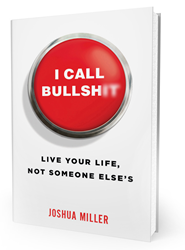 "If you are looking for a book to pat you on the back, then I Call Bullsh** isn't for you. If you want a book that's going to help you change your life, then you've found it," says Ryan Serhant, star of Million Dollar Listing New York and producer of Sell It Like Serhant on Bravo TV
LOS ANGELES (PRWEB) March 20, 2018
Joshua Miller is tired of excuses. He has no patience for self-imposed limitations. And don't even get him started on "quick fixes."
In his debut book, I Call Bullsh**: Live Your Life and Not Someone Else's, available on Amazon March 26, Miller, longtime certified executive and personal coach with a list of celebrity clients and 80,000 LinkedIn followers, shows readers how they can finally stop settling for unfulfilling, unsatisfying lives by becoming their truest, most authentic selves. Miller relies on his own experience as a former master bullsh***er and boils down the oversaturated self-help genre to pluck out the most basic and effective tools for ditching the fake persona you've created and embracing the person you truly are, flaws and all. Readers should get ready to grab the mirror (literally—have one nearby when reading), get to the heart of what's holding them back, and finally find happiness in lives of authenticity.
While all this life-changing wisdom is in the book, Miller is giving something extra away for free. Readers are invited to contact him for a complimentary 20-minute coaching session to jumpstart their journeys toward becoming the people they always wanted to be. Miller knows firsthand the journey isn't easy, but it's always worth it.
Do you really want to change? If so, Joshua Miller's book "I Call Bullsh**" will challenge you to really do it this time. Straight to the heart of the matter, this is a book you don't want to miss!," says Marshall Goldsmith – The author of the #1 New York Times bestseller – Triggers.
 
"I've been blessed in my life to learn and grow under some of the most impactful leaders of my generation. The insight, motivation, and simplicity Joshua Miller uses to reach, teach, and inspire is incredible. He certainly has the "IT" factor, and this book reflects all of that," says, Steve Weatherford, Super Bowl Champion, 10-year NFL veteran and Fittest Man in the NFL.
Miller began his own quest for authenticity when, after years working as a successful albeit miserable advertising executive, he walked away from his career (technically, he fell off a curb in midtown Manhattan one day and met the coach who would change his life, but that's all in the book) and began pursuing the things that really matter to him. Since then, he's helped hundreds of clients and Fortune 100 companies, amassed an impressive social media following, given a TED Talk, been a contributing writer for Thrive Global and Medium, and created "MyInstantCoach," the first life-coaching app for the iPhone. The former Manhattanite lives with his wife and two kids in California.
For more, check out his popular website, http://www.joshhmiller.com CONNECT: Linkedin • Facebook • Instagram