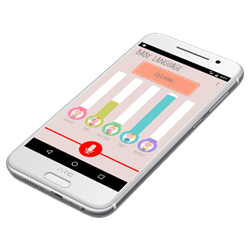 Guaranteed that this app will greatly benefit many parents with young babies. I can honestly say; the first few months with my first born would have been much easier and pleasant if I had this app to explain my infants behavior
AMSTERDAM (PRWEB) March 20, 2018
The first full-scale and truly working infant cry recognition app called 'Baby Language' has been released to the public. After years of development Enbyin succeeded in converting a speech recognition system into a baby cry recognizer that can do all audio processing connectionless on a small phone and at the same time can give instant feedback to the user. The app is also first in providing a full-scale infant cry solution, from teaching parents how to distinguish cries, to explaining how to act on different cries and how to prevent them in the future. The recognition system in this app is transparent and focuses on teaching a skill to parents or caregivers; 'how to distinguish different baby cries'. This compared to other tools that use closed systems that magically give an unexplained answer.
Creator and developer of the app 'Baby Language': "Guaranteed that this app will greatly benefit many parents with young babies. Speaking from experience I know how frustrating a crying baby can be, especially for first time parents. At the same time you receive tons of well-intended but conflicting advices and sometimes you even found some tools or apps that maybe help you with a quick fix but don't provide a real permanent solution. I can honestly say; the first few months with my first born would have been much easier and pleasant if I had this app to explain my infants behavior, that I would have understood and known how to solve or prevent the crying struggle."
To celebrate the launch of 'Baby Language' for Android, all features will be available free of charge until the end of March. Meanwhile, the development continues on improving the cry recognition even further, and creating an app for Windows 10 (and iPhone and iPad depending on market demand).
About Enbyin
Enbyin was founded to-do innovative projects. The challenge to make a baby cry tool was found after a local baby-boom and the discovery of similar looking university papers on baby cries. While studying the papers and investigating sounds the common denominator was quickly found, unfortunately the available tools on the market where only helping people partially or they were a hoax and doing the recognition plain wrong. The challenge is finally accomplished; creating a tool for everyone that teaches all how to handle crying babies.
For more information about the 'Baby Language' app please contact press.release(at)enbyin(dot)com
or goto the Google Play Store for the app: https://play.google.com/store/apps/details?id=com.enbyin.babylanguage