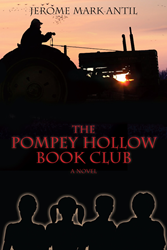 These sixth graders just may have the answer to racism.
SOUTHAMPTON, N.Y. (PRWEB) March 19, 2018
What sixth graders had to say...
"...the author never tells the reader what race the characters are, the characters in the story treat everyone equally." Emmy
"Finally, I loved how many people in the town came together and helped each other, no matter what race! If this always happened this will stop racism!" Ginanna
"I think that Jerry's behavior throughout the book would be a good practice against racism. He's kind and accepting, and willing to make friends and include everyone. Everyone should be like that." Maya
The book - The Pompey Hollow Book Club by Jerome Mark Antil (Little York Books 2011) was the first novel of a series - about what life was like growing up in the shadows of WWII. The book has won literacy awards - lauded by major universities. Antil has received letters from as far as Germany complimenting him on capturing life through a child's eyes throughout a world at war. Antil was born in 1941 - the year of Pearl Harbor...and his memories of the times are still vivid in his mind.
"My book - The Pompey Hollow Book Club - takes place in 1949. In it all my friends are introduced in the book. They are regular characters in the series. The book review contest was totally voluntary - not a school assignment. That's why they mean so much.
The reviews were charming - each written by a 6th grader. Regardless of how lengthy the review was for any particular child - more than half of the children stated that one thing they loved most about the book was that there was no mention of 'race' in the book. They knew all my friends, my teachers, our neighbors - but the book never indicated a color, a race or origin of a one of them."
"Maybe the answer is to stop bringing race up - in news, in conversations," said Antil. "Maybe if we are all treated or described as 'people' or 'persons' - maybe these kids have the answer we need."