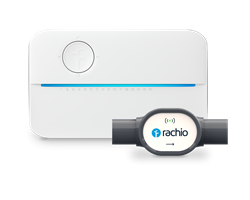 "Rachio is not only saving homeowners frustration, water, and money, we are helping communities conserve water on a much larger scale"
DENVER (PRWEB) March 20, 2018
Rachio, the smart sprinkler company delivering easy-to-use technology to improve residential irrigation efficiency, announced the release of the Rachio 3 Smart Sprinkler Controller and Rachio 3 Wireless Flow Meter to its water management product lineup. As the leading developer of smart home irrigation controllers and creator of the nation's first and best-selling smart sprinkler controller in the United States, Rachio designed these new products to help homeowners take complete control of outdoor water use from their smartphone for as little as $249.99.
The Rachio 3 Smart Watering Controller, unveiled today, raises the bar on smart watering with even easier installation, 2.4 and 5 GHz wireless compatibility, enhanced weather data with Weather Intelligence™ Plus, and a new long-range radio to connect with the first-ever residential wireless flow meter. The Rachio Wireless Flow Meter uses patented Vortex technology to get highly accurate readings of water flow. The Rachio app alerts homeowners when leaks are detected, and the Flow Meter automatically shuts down water supply, protecting against landscape damage and flooding.
"Rachio is not only saving homeowners frustration, water, and money, we are helping communities conserve water on a much larger scale," says Chris Klein, CEO and Co-Founder of Rachio. "With more than sixty percent of residential water waste in the United States occurring outdoors, our new products empower consumers to be smarter with water, so they don't have to choose between conservation and easily maintaining a beautiful landscape."
The Rachio 3 Smart Sprinkler Controller harnesses cloud-connected software that empowers consumers to run their sprinkler system anywhere, anytime, right from their smartphone. The Rachio app takes the guesswork out of watering by recommending days and times for watering based on location, vegetation and soil type. Rachio 3-exclusive Weather Intelligence™ Plus references comprehensive satellite, radar and weather station data to provide schedule adjustments accurate to within a 36 foot radius of the controller.
After raising the recent $10M Series B round with Eastside Partners and Bonaventure Capital, in which the Amazon Alexa Fund also participated, Rachio continues to lead innovation in the smart irrigation category and beyond. Benjamin Cobb, Partner at Eastside Partners notes, "Rachio is so much more than a smart sprinkler company. While they clearly lead this exciting segment of the smart home market, they are also rewriting the book on water conservation. Their innovation mentality extends to all aspects of their business."
Rachio is the most connected smart sprinkler controller on the market, working with everyone's favorite smart home systems and voice services including Amazon Alexa. "We're excited to make a follow-on investment in Rachio as they continue their growth and innovation in sustainable solutions for the smart home," said Paul Bernard, Director of the Alexa Fund at Amazon. "Hands-free voice control is making the smart home simple and convenient for customers. Rachio's Alexa skill makes it easy for customers to control their intelligent sprinklers simply using their voice, helping to improve water efficiency in the home."
Rachio has saved homeowners and their communities more than 22.7 billion gallons of water since it released its first smart sprinkler controller in 2014. The new Rachio 3 Smart Sprinkler Controller and the leak detection abilities of the Wireless Flow Meter will continue to conserve water and help Rachio fulfill its mission to make saving water effortless and personally rewarding for the consumer.
The Rachio 3 Smart Sprinkler Controller and Wireless Flow Meter will be available for pre-order with special promotional pricing starting March 20 on Rachio.com.
To view the media kit, click here.
About Rachio
Rachio, the maker of the leading smart sprinkler controller, is changing the way people think about water. The Wi‐Fi enabled controller and mobile app makes using at‐home sprinklers easy and convenient while saving users water and money. With Rachio's technology, the term 'smart home' expands beyond the house and into the yard, allowing users to set it and forget it while helping conserve one of the planet's greatest resources. To date, Rachio has helped users save more than 22 billion gallons of water. For more information, visit Rachio.com and follow us on Facebook and Twitter.