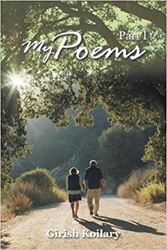 MUMBAI, India (PRWEB) March 19, 2018
Poet Girish Koilary debuts his poetry collection in the newly released book titled "My Poems: Part I" (published by Partridge Singapore). Using simple prose, Koilary addresses a myriad of subjects ranging on emotions, relationships and societal issues.
According to Koilary, while some poems emphasize the negative aspects of humanity, others celebrate education and enumerate the benefits of exercise. They also touch upon basic human needs like food or fire but also delve into the philosophical need to master one's own fates.
He tackles the day-to-day truths that are often forgotten in the hustle and bustle. He discusses the negative consequences of anger and the necessity to fight back against corruption. He focuses on the human condition, as evidenced in his poem "Conscious:"
It is consciousness that make us weep.
Our subconscious minds are alert even when we sleep.
It is consciousness that makes us feel sorry
And even over small things, makes us worry.
It is consciousness that makes us aware of our responsibilities.
It is this abstract thing that enhances our abilities.
It is consciousness that pricks us when we do wrong
And hence to rectify it, we always do throng.
"In this fast moving world where it is a rat race for survival, one can take a corner and read this book to give him relaxation and feel the real necessities of life," Koilary expresses.
"My Poems: Part I"
By Girish Koilary
Hardcover | 6x9 in | 108 pages | ISBN 9781543745016
Softcover | 6x9 in | 108 pages | ISBN 9781543744996
E-Book | 108 pages | ISBN 9781543745009
Available at Amazon and Barnes & Noble
About the Author
Girish Koilary is a chemical engineer. He wrote his first poem at the age of 15 and has never looked back. He has since written over 100 poems. His poem "Music" was published in the book "River of Emotions."