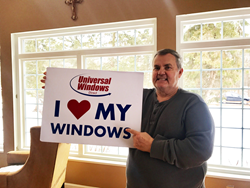 CLEVELAND (PRWEB) March 20, 2018
Universal Windows Direct was recently awarded the 2017 Angie's List Super Service Award, demonstrating excellence in customer service for local homeowners. The company focuses on improving homes by creating a more comfortable and energy efficient place to live. Using exterior remodeling products of incredible value and quality, Universal Windows Direct is proud to be recognized as the newest Super Service Award recipient.
The Angie's List Super Service Award is an honorable recognition for any home improvement company. Recipients of this award are viewed as top-performers in the industry in terms of customer service. Universal Windows Direct ensures complete satisfaction with every step of the customer service process, providing a no-pressure and customer-centric approach to exterior remodeling.
Angie's List updates company ratings daily, where they are graded on a scale from A to F. Home improvement companies that qualify for the Angie's List Super Service Award are required to meet strict eligibility requirements. This includes straight-A ratings for overall grade, recent grade, and review period grade. The companies must also be in good standing with Angie's List, pass a background check, and submit a current trade license attestation. The performance rating covers the period from November 1, 2016 to October 31, 2017.
This award gives customers confidence in choosing Universal Windows Direct for their customer service as well as quality UniShield® products. Angie's List is a leading online review platform that helps homeowners decide which contractor to choose for remodeling projects. With over 10 million reviews and 700 categories on Angie's List, Universal Windows Direct is honored to be recognized for excellence in customer service to Cleveland homeowners.
About Universal Windows Direct:
Universal Windows Direct is an exterior remodeling company located in Cleveland, Ohio. It was founded by Mike Strmac and William Barr in 2002. The company is experiencing exponential growth in Cleveland and throughout the nation. In addition to the 2017 Angie's List Super Service Award, UWD is number 7 on Qualified Remodeler's Top 500 list and number 7 on Remodeling Magazine's 550 list. The company is focusing on homeowner satisfaction and offering quality products through 2018 and beyond.