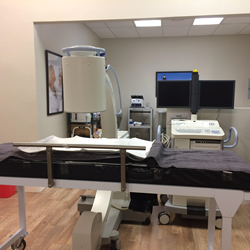 The Regenerative Medicine Training Institute " A Premier Educator in Orthobiologics Education"
JUPITER, Fla. (PRWEB) March 21, 2018
The Regenerative Medicine Training Institute "RMTI"- A Premier Educator in Orthobiologics Education
"A NEW DAY FOR REGENERATIVE MEDICINE TRAINING AND EDUCATION"
Biologic Training Modalities for PRP, Bone Marrow Aspirate, Adipose, Amniotic, Pre & Post Injection Protocols
The Regenerative Medicine Training Institute (RMTI) is a subsidiary of AcCELLerated Biologics, a leading independent medical distribution and consulting firm that educates and supports physicians and their staff worldwide. AcCELLerated Biologics launched The Regenerative Medical Training Institute in 2015 based on its ongoing commitment to provide its clients with the most up to date information on research, technology and equipment in Orthobiologics medicine.
Located in beautiful Jupiter, Florida, The Regenerative Medicine Training Institute offers a variety of educational programs throughout the year tailored to benefit multiple practices. Its peer-to-peer programs help the clinician and their staff advance their practices in Orthobiologics medicine to better serve their patients and the community.
RMTI's pledge is the delivery of a high quality education focused exclusively on the most current "FDA cleared" information available in the rapidly growing field of biologics. The Regenerative Medicine Training Institute's programs provide physicians and their staff with accredited CME hours, a hands-on cadaver lab, live patient procedure (some courses), patient protocols and marketing sessions. The Institute's prestigious rotating faculty consists of "Leaders and Pioneers" in Regenerative Medicine.
The RMTI's world class facility features a 40 seat auditorium providing an ideal intimate and tranquil venue for small group hands-on learning. Every RMTI training program provides each student with the time they require to understand the didactic information and to feel competent with the techniques and procedures presented.
RMTI sets itself apart with its commitment to provide attendees with concierge style services allowing them to relax and enjoy their educational training experience. Following the conclusion of the program, RMTI extends continued support through its "RMTI Alumni Forum" and its graciously accommodating staff.
Based in large part on the reviews of program participants, The Regenerative Medicine Institute continually strives to refine their training programs to insure future programs are relevant to the medical community. RMTI Alumni continually provide rave reviews and serve as ambassadors for the training center. "The highest compliment we receive are the numerous testimonials from our Alumni" – RMTI staff.
"Great educational experience, Great Training facility"
Christopher Rogers, M.D. Orthopedic Specialists of North County
"Liked the hands-on cadaver. Enjoyed seeing the live patients. Excellent lectures"
Melissa Tabor, DO. Sports Medicine Clinic
"It was awesome! Real expertise shown"
Arturo Palencia, M.D. Anesthesiology-Pain Management
The Regenerative Medicine Training Institute is unique quality hands on training that is unmatched.
Upcoming course June 23, 2018
To learn more about RMTI and its educational programs, visit:
https://rmtinstitute.com, or phone toll-free (800) 367-0844.
Like us on Facebook: https://www.facebook.com/RMTInstitute/