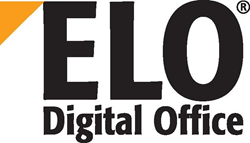 ChannelPro SMB Forums see a lot of new products and have high standards for what's truly innovative.
BOSTON (PRWEB) March 20, 2018
ELO Digital Office USA, enabling businesses to improve collaboration and streamline information management, announced it received two awards of distinction at the ChannelPro SMB Forum Dallas (March 7). The ELO suite of enterprise content management solutions including ELOoffice, ELOprofessional, and ELOenterprise was recognized as the Forum's Most Innovative Solution and ELO USA was awarded the Best Selfie Video, which is voted on by Forum attendees.
Regional ChannelPro SMB Forums are knowledge-sharing and networking sessions for some of the country's leading SMB resellers and managed service providers. "Attendees at our ChannelPro SMB Forum events see a lot of new products and have high standards for what's truly innovative," said Michael Siggins, publisher of ChannelPro, commenting on the Most Innovative Solution award. "We congratulate ELO for winning this well-deserved award."
The 20-second ChannelPro SMB Forum Selfie Videos give sponsors an opportunity to creatively communicate their company spirit and solution offerings to ChannelPro SMB Forum attendees. "ELO did a great job of injecting their video with the kind of personality we look for from our sponsors. Our audience clearly appreciated it too," continued Siggins.
"ChannelPro SMB Forums enable us to strengthen and grow our channel relationships and personally inform resellers throughout the United States about the latest innovations and product enhancements from ELO," noted Szilvia Horvath, CEO of ELO Digital Office USA. "We are truly humbled to have received an award for the most innovative solution and delighted to know that the gathering at ChannelPro in Dallas had as much fun watching our selfie video as we did in making it."
About ELO Digital Office USA
ELO Digital Office USA provides innovative digital content management solutions for organizations of all sizes and industries throughout the United States. ELOoffice, ELOprofessional, and ELOenterprise give businesses an electronic and secure way to easily capture, archive, and manage business documents and information – both paper-based and digital. A subsidiary of ELO Digital Office GmbH (founded in 1998), ELO USA is headquartered in Boston, MA and is part of a network of global ELO offices throughout Asia, Australia, Europe, and North and South America. ELO Digital Office GmbH has an extensive network of global business partners and maintains technology partnerships with industry leaders such as IBM, Microsoft, and SAP. Visit ELO USA. Follow us on LinkedIn and Twitter.
###
All product and service names mentioned herein are the trademarks of their respective owners.