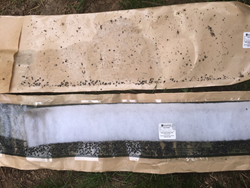 VICTOR, NY (PRWEB) March 21, 2018
The spotted lanternfly is the latest stowaway to bug tree owners throughout the eastern United States. This native of China, India and Vietnam is threatening fruit, ornamental and shade trees in most eastern states from Massachusetts to Florida.
This leafhopper was first identified in Berks County, Pennsylvania in 2014. Now 13 counties are under quarantine. Penn State Extension's recommended treatment for reducing the population includes installing sticky bands from mid-May to the end of August to trap lanternfly nymphs.
Tree owners now have an effective, easy to use, attractive sticky band choice. The BugBarrier Tree Band® contains no chemical pesticides or pheromones. University researchers, government entomologists, arborists and property owners have used it for more than 15 years to trap a variety of insects that climb on the trunks of trees.
The BugBarrier Tree Band traps pests using adhesive technology. A dense, flexible fiber and a polyester film with a thin coating of adhesive work together to prevent passage into the canopy. The film comes with the adhesive already applied and, when installed, the adhesive faces the tree. This eliminates unsightly debris and bridging. It installs in minutes and, once removed, can be recycled with your household recycling.
Check for the BugBarrier Tree Band at local garden centers or call an arborist or landscape contractor. For product information, including a video demonstrating how the product is used, and for a list of dealers, visit http://www.treebands.com.