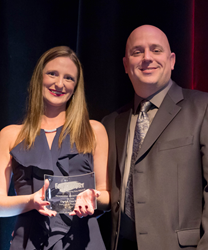 We are a high-quality, professional painting company and we run this business with integrity ... we aren't just putting paint on walls – we are changing the experience of having your home painted. - Chad Smith
CHARLESTON, WV (PRWEB) March 19, 2018
When Chad and Tina Smith opened Fresh Coat of Charleston in early 2017, they saw an opportunity to provide their community with the kind of painting company residents deserved. They wanted to make hiring a painter a pleasant and stress-free experience. Now, thanks to their focus on service, Chad and Tina Smith have been named Fresh Coat's national Rookie of the Year.
The Fresh Coat Painters Rookie of the Year Award recognizes one franchise owner who, within the first year of operation, has been able to rapidly grow their franchise through a commitment to business development and customer service. The award was presented at Fresh Coat's national conference on February 9, 2018.
"Chad and Tina joined the Fresh Coat system with a plan for how they would quickly grow their business. By launching quickly, building relationships, networking, attending trade shows, creating great partnerships and using the Fresh Coat system, the Smiths have rapidly become one of our top performing franchisee teams. We are excited to have them in the Fresh Coat family and we're looking forward to their future," Fresh Coat President Tara Riley said.
Fresh Coat offers residential and commercial painting services including interior or exterior painting, wood staining, and other services for nearly every protective coating application. They have a 24/7 receptionist, online scheduling, free detailed quotes, and they only use high-quality materials. Fresh Coat of Charleston, which is one more than 120 Fresh Coat franchises, serves Charleston, South Charleston, St. Albans, Nitro, Poca, Cross Lanes, Hurricane, Winfield, Scott Depot, Dunbar, Culloden, Milton, Ona, Barboursville, Huntington, Teays Valley, Sissonville, Elkview, Eleanor, Buffalo and the surrounding areas.
When the Smiths opened Fresh Coat of Charleston, their biggest goal was to get out into the community, spread the word about their business and try to build a steady volume of work. They networked with referral sources, they went to trade shows, the had booths at festivals and they spent a significant amount of time on promotion – something they are planning to do even more of in 2018.
"We love being out in the community talking to people about who we are and what we do. Even if they don't need a painter on that day, if they've met us and they are impressed with our professionalism and commitment to quality, they might remember our name when they do need a painter or they might tell a friend. For us, this business is about building relationships," Chad said.
As part of their commitment to customer service, Fresh Coat offers a 3-3-3 customer service pledge, so calls will be answered by a live person within three minutes, a quote will be delivered within three days (customer schedule permitting) and the job will be started within three weeks.
"We are a high-quality, professional painting company and we run this business with integrity. People in this area needed a company like ours to raise the bar and the reception here has been strong, especially among realtors. They know they can call us, we'll show up, we'll provide a fair and professional quote and, if their client decides to hire us, we'll have the job done quickly, beautifully and on time," Chad said. "We aren't just putting paint on walls – we are changing the experience of having your home painted."
Prior to opening Fresh Coat, Chad spent 20 years in the construction and environmental industry and was a licensed home inspector. Tina has her West Virginia Real Estate license.
Fresh Coat was founded in 2004 as part of Strategic Franchising Systems. Since 2015, Fresh Coat has been included in the Bond's Top 100 and named to Entrepreneur Magazine's Franchise 500 list. Fresh Coat is also part of the International Franchise Association, the Small Business Association's Franchise Registry, VetFran and Minority Fran. All Fresh Coat employees are specially trained, dependable and background-checked and Fresh Coat of Charleston is bonded and insured.
For more information about Fresh Coat of Charleston, call 304-991-8138, email CSmith(at)FreshCoatPainters(dot)com or visit http://www.FreshCoatCharlestonWV.com.