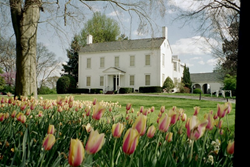 "Each historic home has their own unique story to tell. In addition, each site offers special events throughout the year, guided tours and rental options."
KNOXVILLE, Tenn. (PRWEB) March 21, 2018
Conveniently located just off I-40 and I-75 in eastern Tennessee, Knoxville is a bustling city situated in the foothills of the Great Smoky Mountains. Along with plenty of outdoor adventure in the nearby mountains, visitors can take a step back in time and tour seven historic homes, each one boasting a different story while celebrating more than 200 years of unique architecture, artifacts and culture.
James White was an American pioneer and soldier who founded Knoxville, Tennessee. He established his home in 1786 and later enclosed it within a log fort comprising of 8 buildings. Restored and opened to the public in 1970, the Fort interprets the pioneer history and culture of early East Tennessee and is considered the birthplace of Knoxville.
Situated in the center of downtown Knoxville's government district, Blount Mansion offers history of one of the nation's founding fathers. William Blount, who was a signer of the U.S. Constitution as a delegate from North Carolina, moved to Knoxville following his appointment by President Washington as Governor of the Southwest Territory. Made of sawn lumber brought from North Carolina, Blount Mansion would serve as the territorial capitol, as well as a family home. Today, the landmark also features a modern visitors center with a museum shop and historical exhibits.
Crescent Bend House and Gardens
Built in 1834 by Drury Paine Armstrong, Crescent Bend is named for its prominent setting overlooking a majestic crescent bend in the Tennessee River just west of downtown Knoxville. It was once a 600-acre working farm and was site of Civil War skirmishes and the mortal wounding of federal Brig. Gen. William P. Sanders. The Armstrong-Lockett House Museum at Crescent Bend contains an extensive fine antique art and furniture collection from notable artisans like Michael Allison, Honore Launnier, Benjamin Frothingham, Samuel McIntire, and Sir Thomas Lawrence. Also on display is an outstanding American and English Silver collection dating back to the 16th century.
Historic Westwood was built as a wedding promise in 1890 by John Edwin Lutz and his wife, Ann Adelia Armstrong Lutz. Adelia Lutz was Tennessee's first professional female painter and the house is filled with her beautiful hand-painted decorative frescos. Originally sited on 12 acres along Kingston Pike, the home was designed by notable architects Baumann Brothers and placed on the National Register of Historic Places in 1984.
Mabry-Hazen House, listed on the National Register of Historic Places, is located atop scenic Mabry's Hill in Knoxville. Built in 1858 and housing three generations of the same family from 1858 to 1987, Mabry-Hazen House served as headquarters for both Union and Confederate forces during the Civil War. Visitors to the historic site can view original artifacts including china, silver, crystal, and antique furnishings.
Historic Ramsey House Plantation
The historic Ramsey House Plantation is the family home built Colonel Francis A. Ramsey in 1797. The Ramseys were an influential East Tennessee family with ties to the Confederacy, railroad development, the University of Tennessee, and early public medical care. The home is constructed of Tennessee pink marble and blue limestone and was well known at that time as the finest home in Tennessee. The self-supporting working farm originally was composed of over 2000 acres of prime farmland. Today, the farmstead consists of 110 acres on which the family mansion sits. Guided tours are given daily by trained docents. Visitors can tour the homestead, which contains many fine furnishings and housewares of the period and take a leisurely walk around the grounds.
Marble Springs State Historic Site
Marble Springs State Historic Site is a scenic 35-acre homestead of the first governor of Tennessee, John Sevier. The main cabin, built circa 1800, still stands today on the site where it was originally constructed. Along with the cabin, Marble Springs State Historic Site consists of a tavern, loom house, spring house, smoke house and trading post that give visitors a glimpse into late 18th and early 19th-century life. It was placed on the National Register of Historic Places in 1971. The historic site and home contain several original furnishings belonging to the Sevier family. Tours are available of the historic site or visitors can walk the hiking trails exploring a beautiful nature setting just 12 miles outside of downtown Knoxville.
"Each historic home has their own unique story to tell. In addition, each site offers special events throughout the year, guided tours and rental options," said Julie Graham, spokesperson for the Tennessee River Valley Mapguide Council.
Visitors can visit each site individually, or visit all of the sites by purchasing a discounted combo pass at any of the seven locations or from the Knoxville Visitors Center. For complete trip plan details including directions, admission fees, and hours of operation, visit https://www.tennesseerivervalleygeotourism.org/content/historic-homes-of-knoxville/ten264f01696d8a9fa9d.
Along with these intriguing historical homes, the Tennessee River Valley offers a compelling story, captivating visitors with its little unknown facts, pristine, untouched areas and rich, authentic experiences. Plan a trip easily with the Tennessee River Valley Geotourism MapGuide, an online guide to explore authentic places and adventures that have been recommended by locals.