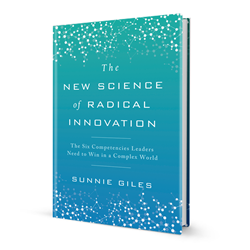 If you are serious about innovation in your organization, this book is a must read.
Provo, Utah (PRWEB) March 20, 2018
It's 2018. Organizations across the globe are competing in a VUCA world (Volatility, Uncertainty, Ambiguity, Complexity) that few are prepared for. This is a revolutionary change, equivalent in impact to the Industrial Revolution. In the VUCA era, organizations that win big innovate. Organizations that stagnate risk quick obsolescence. Which is why leadership evolution is paramount to both personal and organizational survival and success.
In The New Science of Radical Innovation organizational scientist, leadership consultant, researcher and professional executive coach Dr. Sunnie Giles presents scientific evidence, methods, strategies and step-by-step tools to dramatically and permanently change how leaders manage themselves, create connection with others, and achieve radical innovation on both individual and organizational levels to come out on top.
The New Science of Radical Innovation is a guide to the six leadership competencies that embrace VUCA and stimulate continuous innovation. The book is filled with pragmatic, research-based facts that will embolden evolved leaders and help old school leaders rethink their beliefs and methods. For example: command and control leadership is out; safety of the team is in; effectiveness trumps efficiency; and speed outweighs perfection.
"If you are serious about innovation in your organization, this book is a must read. Sunnie Giles sets a new standard for understanding innovation and provides profound insights on how innovation happens and what you can do to harness that potential," said Jonathan Rosenberg, coauthor of New York Times and Wall Street Journal bestseller How Google Works and former SVP of Products at Google.
Leaders who want a clear process to set their organization on the path to leapfrog its competition, or radically extend its current lead, and to redefine a new industry paradigm should read this book. They will benefit from years of solid neuroscience, quantum mechanics, complex systems theory, psychology and leadership research all rolled into an easy-to-read-and-digest style and format. Dr. Giles showcases some of the most successful companies in the world, and she shares an intimate look at the struggles of leaders and how they overcame them in real-life case studies.
THE NEW SCIENCE OF RADICAL INNOVATION
By Dr. Sunnie Giles
Published by BenBella Books, Inc. Hardcover
$24.95 US/ $32.99 CAN ISBN: 9781946885029
On Sale Date: April 10, 2018
About the Author
Dr. Sunnie Giles is a new generation expert on innovation and is founder and president of Quantum Leadership Group. She consults with Fortune 500 companies and new industry entrants on innovation and leadership strategy through her training and executive consulting programs. Dr. Giles received her MBA from the University of Chicago Booth School of Business and her PhD in Systemic Psychology (Marriage and Family Therapy) from Brigham Young University. She is an Advisor to the Stanford Business School Institute of Innovation in Developing Economies. Dr. Giles is a TedX featured speaker on radical innovation, has been published in Harvard Business Review, and is a regular Forbes contributor.
Instagram: drsunniegiles
Twitter: @sunnie_giles
http://book.sunniegiles.com
#quantumleadership
#radicalinnovation
###
MEDIA INQUIRIES
Colleen Edwards
PowerMark
949.212.3913
cedwards(at)thepowermarkgroup(dot)com
http://book.sunniegiles.com
REVIEW COPY REQUESTS
Jennifer Canzoneri, Marketing Director
BenBella Books
BenBellaBooks.com Jennifer(at)benbellabooks(dot)com
214.750.3600, x104