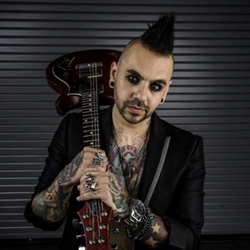 "These lessons will help students develop the chops and stylistic diversity of a true professional guitarist. We know how to teach to improve." – Michael Phifer, institutional director, Guitar Craft Academy Nashville
Nashville, Tennessee (PRWEB) March 20, 2018
Musicians Institute Guitar Craft Academy Nashville (GCA Nashville) announced today that it will begin offering guitar and bass lessons to students of all skill levels. One-hour sessions will be taught by professional Nashville musicians Brian Bonds, Bruce Buckingham, Tim Venerosa, Tyler Slawson and Clark Singleton on site at the academy's campus, located at 5000 Harding Place.
Bonds, a former guitarist for Florida Georgia Line, currently tours with Tantric, among other bands. Buckingham has published two books on guitar playing and has performed with Helen Reddy and John Patitucci and in Michael Jackson's live production of "Sisterella." Venerosa is an experienced studio guitarist who currently performs with True Villains, Morgan Frazier and Caroline Kole.
Slawson is currently touring as a guitarist with "American Idol" winner Trent Harmon, and has performed on the Grand Ole Opry and the TV show "Fox and Friends." Singleton, a bass player, is owner of Tune Squad Studios and is endorsed by Aguilar Amplification and Alclair In-Ears.
Lessons will be offered to musicians ages 7 and up from 10 a.m. to 8 p.m. weekdays at $60 each. Students will pay in advance for a four-hour block of time, scheduled in four weekly sessions.
GCA Nashville, launched in 2016 by California-based Musicians Institute, is the only NASM-accredited school in the Southeast United States. The school's flagship College of Contemporary Music Guitar Craft Program gives students an immersive education in the art of making and repairing guitars using the tools and machines in the school's fully equipped, professional-level instrument manufacturing facility.
Guitar and bass lessons will utilize techniques developed by Musicians Institute to give students an all-encompassing education in their chosen instrument. Students will develop pro-level technical skills in a variety of styles in addition to studying music theory and the history of their instrument.
"Our lessons are for guitarists and bassists of all skill levels who are serious about getting better at their chosen instrument," said Michael Phifer, institutional director of Guitar Craft Academy Nashville. "A traditional private lesson might only teach you to play in a single style, but these lessons will help students develop the chops and stylistic diversity of a true professional guitarist. We know how to teach to improve."
To sign up for guitar or bass lessons, visit nashville.mi.edu/private-guitar-lessons or call 615-333-9423.
Registration is also now open for the school's flagship Guitar Craft Program, with six-month (two-quarter) sessions starting in April and October. For more information or to register, visit nashville.mi.edu.