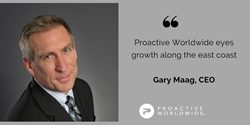 we can attract top talent to help PWW strategically grow the firm's presence in this target-rich environment
SCHAUMBURG, Ill. (PRWEB) March 21, 2018
Prominent competitive intelligence group Proactive Worldwide (PWW) announced the firm has hit the start button on its strategic expansion program, selecting Newark, NJ for the launch of its second office in the U.S. The Newark, NJ area is experiencing steady growth in the last two years, and is home to numerous banking, insurance, healthcare, electronics, energy, and higher education entities.
By opening a strong base of operations on a commerce-rich point along the Eastern Seaboard, PWW CEO Gary Maag noted the firm was able to dovetail its increasing client demand in the region with the area's sustained positive growth and economic development in places like Jersey City, Newark, and Trenton, NJ, among other areas. "Locale was key for our expansion goals," Maag said. "Staying close to major cities and transportation hubs, first at our Chicago headquarters and now in the Newark and New York City area, provides our teams with better opportunities to engage with clients."
Maag mentioned that several aspects of PWW's services, including its war gaming and business simulation models, rely heavily on facilitating communication and dynamic interaction to achieve effective intelligence solutions. "Because our office locations are in close proximity to world-class cities, we can attract top talent to help PWW strategically grow the firm's presence in this target-rich environment," he added.
About Proactive Worldwide
Proactive Worldwide, Inc. is a global research and strategic intelligence consulting firm that provides evidence-based, constructive information within the competitive intelligence, market intelligence, and customer insights domains. Anchored by primary source research for over 21 years, Proactive's multilingual professionals assist our clients with offerings that include but are not limited to competitive research services, competitor assessments, market entry and defense strategies, war gaming simulations and scenario planning events, and customer experience and user experience studies. To learn more, visit http://www.proactiveworldwide.com.