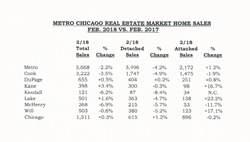 Despite the obstacles posed by a lack of supply, the Chicago-area housing market remains quite vigorous.
CHICAGO (PRWEB) March 21, 2018
The now familiar factors of a limited inventory of homes for sale and the continuing ascent of home values were evident again during February across the metropolitan Chicago housing market, according to RE/MAX Northern Illinois. Echoing results of recent months, February home sales activity dipped -2.2%, while the median sales price of homes rose +8.2% when compared to the same month last year.
Those results contrast favorably with January, which saw sales decline -6.9% and the median sales price gain +7.1% in the seven-county metro area.
February sales totaled 5,668 units, which sold at a median price of $229,900. The average time needed to sell one of those properties was 101 days, down from 108 days a year earlier. The month-end inventory of listed homes was 25,520, compared to 28,088 for the prior February, a decrease of -9.1%.
"Despite the obstacles posed by a lack of supply, the Chicago-area housing market remains quite vigorous," observed Jeff LaGrange, Vice President, RE/MAX Northern Illinois Region. "When you remember that February was a rather snowy and cold month, the results, in my view, point to a strong spring market."
LaGrange noted that February home sales activity rose in three counties, DuPage, Kane and Lake, and was also up slightly in Chicago though down in Cook County as a whole.
"One number that stood out to me was the 10.6 percent increase in the median sales price that we saw in Cook County broadly and in the City of Chicago. Chicago and its Cook County suburbs accounted for 56.8 percent of all February sales in the metro area, and that kind of price increase suggests that demand for homes in or close to the city is quite strong," LaGrange said.
The home sales data used for the RE/MAX analysis is collected by MRED, the regional multiple listing service. It covers detached and attached homes in the Illinois counties of Cook, DuPage, Kane, Kendall, Lake, McHenry and Will. Detached homes are typically stand-alone, single-family dwellings. Attached homes include condominium and cooperative apartments along with townhouses.
The median sales price rose in all seven counties and in Chicago, with gains ranging from a high of +13.7% in McHenry to +2.8% in Kane. Both Cook County and Chicago recorded gains of +10.6%.
A continuing factor in the rising median sales price is the dwindling number of properties subject to foreclosure or short sale. Those distressed homes accounted for just 12.4% of all February sales this year, down from 26.2% two years earlier. The median sales price of distressed properties typically has been 50% to 60% of the median sales price for the total market.
"If distressed sales are eliminated from the February results, total sales activity rose +5.1%, while the median sales price gained +3%, indicating that the housing market is continuing to improve at a sustainable pace," said LaGrange.
DETACHED HOMES
Despite an -11.8% drop in inventory, the detached segment of the metro housing market showed considerable strength. The median sales price gained +7.5% to $242,093, and average market time was down to 111 days from 120 days a year earlier. Total unit sales did fall -4.2% to 3,496 homes.
Chicago turned in the best performance in this segment, with sales up +1.2% to 615 units and the median sales price climbing +13% to $209,000. DuPage County also saw total sales rise though the increase was just +0.2% to 404 units. Elsewhere, sales fell -4.9% in Cook, -0.3% in Kane, -8.4% in Kendall, -4.7% in Lake, -5.7% in McHenry and -5.2% in Will.
The median sales price increased in six counties, led by gains of +13.3% in McHenry and +10.8% in Cook. Other gains were +6.7% in DuPage, +4.3% in Kane, +2% in Lake, and +7% in Will. Kendall had a decline of -1.7%.
ATTACHED HOMES
Sales of attached homes were up +1.2% from the prior February to 2,172 units, while their median sales price increased +5.4% to $195,000. Average market time was 85 days, three days less than February of last year.
Attached home sales rose in four counites, gaining +23.2% in Lake, +17.1% in Will, +16.7% in Kane and +0.8% in DuPage. They were unchanged in Kendall, and fell -11.7% in McHenry and -1.9% in Cook, which includes a -0.2% drop in Chicago.
The median price of an attached home rose in six counties and Chicago, with the largest gains coming in Kendall, up +20.8%, and Lake, up +20.4%. Cook gained +11.6%, including +14.5% in Chicago. Other increases were +9% in Will, +8.1% in Kane and +7.7% in McHenry. The median price in DuPage fell -2%.
RE/MAX Northern Illinois has been the leader in the northern Illinois real estate market since 1989 providing a full range of residential and commercial services. With more than 2,200 sales associates and 105 offices throughout the area, RE/MAX Northern Illinois has helped thousands of families with their home buying and selling needs. For more information, visit illinoisproperty.com or download the Illinois Property mobile real estate app.
####
EDITOR'S NOTE: RE/MAX® is a registered trademark. Please spell in all caps. Thank you.
About the RE/MAX Network:
RE/MAX was founded in 1973 by Dave and Gail Liniger, with an innovative, entrepreneurial culture affording its agents and franchisees the flexibility to operate their businesses with great independence. Over 115,000 agents provide RE/MAX a global reach of more than 100 countries and territories. Nobody sells more real estate than RE/MAX, when measured by residential transaction sides. RE/MAX, LLC, one of the world's leading franchisors of real estate brokerage services, is a wholly-owned subsidiary of RMCO, LLC, which is controlled and managed by RE/MAX Holdings, Inc. (NYSE:RMAX). With a passion for the communities in which its agents live and work, RE/MAX is proud to have raised more than $167 million for Children's Miracle Network Hospitals® and other charities. For more information about RE/MAX, to search home listings or find an agent in your community, please visit http://www.remax.com. For the latest news about RE/MAX, please visit http://www.remax.com/newsroom.