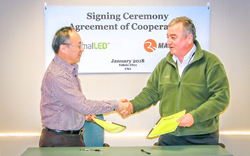 You get the convenience of dealing with Optimal's best in class quality and customer service while taking advantage of superior design and quality which Mason offers
TOLEDO, Ohio (PRWEB) March 27, 2018
OptimalLED, a lighting manufacturer located in Toledo, Ohio is pleased to announce the Company has signed an "Exclusive Partnership" agreement with Mason Technologies Co., Ltd. out of Shenzhen, China. This exciting new partnership provides OptimalLED with the exclusive rights to market Mason products in North America. With this alliance comes the opportunity for OptimalLED to expand business in 2018 across the U.S., and that includes job growth.
"I am proud to announce the signing of an exclusive partnership with Mason LED. We are the first company to exclusively provide North American customers with proprietary, stylistic-designed LED products for everyday applications. Mason produces world-class commercial and industrial LED lighting," said Steve James, CEO of OptimalLED. "The strength of this new partnership offers our clients the chance to purchase products with immediate delivery, eliminating import delays, and the worry of after-sale product support."
With corporate offices located in the Midwest, OptimalLED is a multi-million-dollar enterprise with a 50,000 sq. ft. fulfillment center who manufactures & imports LED lighting. Customers demand speed to market at a reasonable price but want assurances the product is aesthetically appealing and stringent quality control measures are in place. OptimalLED provides the best value in the lighting industry.
"You get the convenience of dealing with Optimal's best in class quality and customer service while taking advantage of superior design and quality which Mason offers. This line of products is not just another square brown shoebox fixture. The clean, rounded edge designs offer a European flare to everyday area lighting," Mr. James added.
Dennis Newhouse, General Manager for OptimalLED stated, "as the LED market becomes more crowded with LED manufacturers and suppliers, none are bringing innovative change to how LED products are brought to market. OptimalLED professionals keep a finger on the pulse of this rapidly changing market ensuring that the Mason products continue to innovate and develop leading-edge LED products."
When asked why he was excited about the exclusive deal with OptimalLED, Joe Houng, President of Mason LED division said, "For 3 years we have looked for the right partner to develop the North American market. Throughout our conversations, we were really impressed by the extensive knowledge of lighting the team at OptimalLED has demonstrated."
This agreement is a major milestone in the 2018 planned growth strategy for OptimalLED. The executive team plans to hire new marketing, sales, and logistical support staff across the country.
OptimalLED and Mason Technologies will be attending Lightfair International Tradeshow and Conference from May 6-10 at McCormick Place in Chicago, IL. Stop by booth #5244 for a product demonstration. For more information, visit http://www.optimalled.com or contact sales(at)optimalled(dot)com.
About Mason Technologies Co., Ltd.:
Shenzhen Mason Technologies Co., Ltd., established in 2002, listed on Shenzhen Stock Exchange (Stock code: 002654). Mason has 1500 employees and a team of 300 R&D engineers, and more specially all the LED products have independents intellectual property rights. The primary product focus is LED roadway lighting, industrial lighting, stadium and commercial lighting. en.masonled.com
About OptimalLED:
OptimalLED Inc. is a leader in energy efficient technologies and a manufacturer/importer of LED lighting, the most energy efficient lighting solution available today. Founded on the principals of energy efficiency and the benefits it brings to the consumer, we believe the future of lighting and energy is marked by the speed with which we bring the latest technology to the consumer marketplace. The long-life LED technology we deliver to our clients today, will be the lighting used by generations to come. OptimalLED has a network supporting thousands of lighting professionals, contractors, distributors, and end users across the globe. For more information visit, optimalled.com.