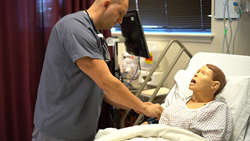 "I'm a hands on learner and I feel that lab simulations have prepared me considerably. I enjoy finding harmony in the chaos and being able to react to the situation that arises in lab simulation really test what I have been learning in lecture and really put it to the test."
WEST CHESTER, Ohio (PRWEB) March 20, 2018
Hondros College of Nursing student Sean Lewis has always had a laser-focus on his life plan to be a member of the U.S. military.
"When I was in kindergarten we had to draw what we wanted to do – and I put my pen to paper – or my crayon and I drew a guy in boots and a really bad uniform and decided that is what I wanted to do," he says.
But beyond the military, Lewis knew all his life that he wanted to be involved in the medical profession to provide care and help to others. He says that nursing has always been "in the background of everything I have done in my life." He watched family members being cared for, assisted his brother who lives in a special needs home and become a State Tested Nursing Assistant (STNA) shortly after high school.
Before starting school, Lewis was a member of the Ohio Army National Guard, where he attended combat lifesavers course being taught basic buddy aid and self-aid.
"In the military I had some injuries and was in a wounded warrior battalion I saw combat soldiers with varying injuries that required an assortment of care for short term and long term, and I think all of this accumulated for me to want to become a nurse," he said.
Yearning for full-time Army service and knowing that he would be best served to enter the military with an in-demand specialty, Lewis realized that a nursing degree combined with military service would provide the fulfilling direction that he was seeking and he headed straight to the Hondros College of Nursing Cincinnati/West Chester campus.
"When I decided to go to school I looked up surrounding schools in the area for quality and graduation rates," Lewis says. "The U.S Department of Veterans Affairs site ranked Hondros College of Nursing far exceeding other schools in quality, education and graduation rates. I knew it would be the absolute best choice for me then."
With its focused approach to nursing education, providing work-ready nurses exceptional clinical, communication and collaborative skills, Hondros College of Nursing has provided the right education and training for Lewis.
"I'm a hands on learner and I feel that lab simulations have prepared me considerably," he says. "I enjoy finding harmony in the chaos and being able to react to the situation that arises in lab simulation really test what I have been learning in lecture and really put it to the test."
As Lewis moves closer to his goals, he talks about his passion to be a role model.
"I personally can't recall very many people that have left a life long lasting impression in my life and the ones that I can, I will never forget," he says. "I want to leave a lasting positive impression for anyone that I meet. I want to have a greater impact on the lives of people that I come into contact with. The highlight of returning the military with my nursing degree would be to get my boots on the ground again to help other soldiers wear the uniform proudly."
While Lewis has experienced great success and has a clear focus on where his life is heading, he is no stranger to challenges. What drives him to succeed?
"Failure," he says. "When I have experienced failure I have learned from that feeling. It's a dark emptiness that only you can feel and with that gritty let down you build yourself up. Though failure you can build resiliency. When I have been entrusted with a task or a patient I refuse to give it less than all I have because when I reach that critical point where it matters most I refuse to fail because I have learned where my limitations are and how to break though them."
When he isn't in school or working, Lewis can be found practicing or teaching martial arts. He has taken martial arts since kindergarten. He is also involved as a volunteer with the Veterans of Foreign Wars post 6069 as a past committee member, actively participating in many events.
"My best advice to anyone looking to change their lives is to prioritize and execute everything you do with vigilance," Lewis adds. "Stand out by being the first one in and the last one out. When you think you have mastered something do it again, make it more challenging by other variables. Never become complacent and never compromise your integrity. "
About Hondros College of Nursing
Hondros College of Nursing educates nurses at five Ohio campuses in Cincinnati/West Chester, Cleveland/Independence, Columbus/Westerville, Dayton/Fairborn and Toledo/Maumee, where students can earn a Practical Nursing Diploma and an Associate Degree in Nursing. Additionally, registered nurses in Ohio and other states can earn a Bachelor of Science in Nursing degree through the online RN-BSN completion program. Hondros College of Nursing is dedicated to its mission, as well as the students, partners, and communities in which they serve. For additional information, please visit hondros.edu.
Hondros College of Nursing is an accredited member of the Accrediting Council for Independent Colleges and Schools, (ACICS), 750 First Street, NE Suite 980, Washington, DC 20002, (202) 336-6780. The Practical Nursing and Associate Degree in Nursing programs are approved by the Ohio Board of Nursing. The baccalaureate degree in nursing program is approved and offered through the Westerville Main Campus and is accredited by the Commission on Collegiate Nursing Education, One Dupont Circle, NW, Suite 530, Washington, DC 20036, (202) 887-6791. Hondros College of Nursing cannot guarantee employment or salary. Hondros College of Nursing is a subsidiary of American Public Education, Inc. (NASDAQ: APEI).