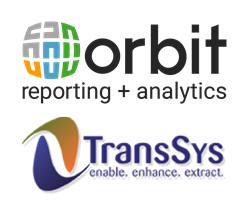 "This partnership harnesses the excellence of both TransSys and Orbit Reporting and Analytics to deliver unprecedented value to customers." Rupesh Sharma, CEO, Orbit Analytics
ATLANTA (PRWEB) March 20, 2018
Today, Orbit Reporting and Analytics (Orbit) and TransSys Solutions (TransSys) are pleased to announce a partnership to deliver a new level of self-service reporting, analytics, and business intelligence solutions to companies in the Middle East region. This partnership combines Orbit's industry-leading reporting and analytics software with TransSys's deep consulting services expertise and experience in the Middle East region, to deliver solutions that drive operational efficiencies and lower total cost of ownership (TCO). Both companies are Oracle Platinum Partners, with decades of experience in working with Oracle ERP applications customers.
With an emphasis on self-service and offering a user-intuitive interface, Orbit software brings data to life by integrating data from all key sources, including ERP and Cloud applications such as Oracle E-Business Suite, PeopleSoft, Oracle Cloud Applications, Taleo, Excel, and Salesforce. "We are excited to work alongside TransSys, an organization that is well known for their unmatched success in delivering business transformation at companies in the Middle East region. This partnership harnesses the excellence of both TransSys and Orbit Reporting and Analytics to deliver unprecedented value to customers," added Rupesh Sharma, CEO at Orbit Reporting and Analytics.
As an information technology consulting firm with a strong presence in the region and extensive knowledge and experience in the ECEMEA and ASEAN IT market, TransSys provides functional and technical expertise across industries and business functions in both private and public sectors. "Orbit Reporting and Analytics is the leader in self-service reporting and BI solutions. By adding Orbit as our reporting and BI solution offering, the partnership will enable TransSys to deliver new reporting and analytics functionality that will help our customers better leverage their data to drive operational efficiency and continuous innovation," said Khalil M. Al-Hindwan, Vice President at TransSys Solutions.
About Orbit Reporting and Analytics
Orbit Reporting and Analytics is a rapidly growing operational reporting, analytics, and business intelligence (BI) software company. Orbit helps businesses of all sizes and industries across the globe harness the power of their data. With a passion for continuous and value-centric innovation, Orbit enables customers to make data-guided decisions and drive business performance. Each day, more than 70,000 users rely on Orbit for true self-service reporting and analytics. Orbit connects all company data sources in a single platform, bringing data to life with interactive charts, dashboards, and other data visualizations. For more information, visit the Orbit Reporting and Analytics website at https://orbitanalytics.com.
About TransSys Solutions
TransSys Solutions is a global IT consulting and technology services Company focused on helping customers maximize value in their Information Systems by delivering unparalleled solutions and services. The company is focused on delivering transformational value to its customers through effective delivery of enterprise solutions. In the past 7 years, TransSys has worked with 200+ customers, in 30 countries, and has in the process established a leadership position delivering Oracle cloud solutions in the ECEMEA region. To learn more, visit http://www.transsyssolutions.com