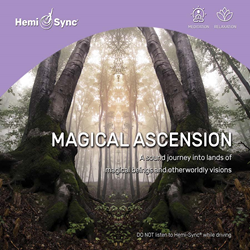 LOVINGSTON, Va. (PRWEB) March 21, 2018
Interstate Industries, Inc. d/b/a Hemi-Sync®, a leading conscious media company, has released a Metamusic® title with Deborah Martin titled, Magical Ascension.
Invoking the mysteries of the ages in a seamless array of musical compositions, Deborah Martin creates a mystical and energizing sound journey inviting the listener into new realms of the sacred. Fellow artist J. Arif Verner collaborates on a few choice tracks in this mesmerizing audio adventure that combines ambient electro-acoustic recordings with interwoven percussive rhythms and textures. The addition of Hemi-Sync® intensifies the enchanting, mythical quality of this charming collection.
"This is our fourth release with Deborah, and one of the deepest musical experiences I've encountered," commented Hemi-Sync® Chairman Garrett Stevens. "We are honored to collaborate with someone of her caliber."
Hemi-Sync® is a patented, scientifically and clinically proven audio-guidance technology refined with more than 50 years of research. Researchers learned that specific sound patterns could lead the brain to various states of consciousness, ranging from deep relaxation or sleep to expanded awareness and other extraordinary states.
The process works through the generation of complex, multilayered audio signals, which act together to create a resonance that is reflected in unique brainwave forms characteristic of specific states of consciousness. The result is a focused, whole-brain state known as hemispheric synchronization, or Hemi-Sync®, where the left and right hemispheres are working together in a state of coherence.
Deborah Martin is one of Spotted Peccary Music's highly acclaimed top selling artists. Her passion is to visualize and create music that takes each listener on a journey through time and space. Deborah continues to travel extensively around the globe experiencing firsthand the diversity of cultures and the historic threads that weave together, connecting us all. This perspective enables her to recognize and uncover links between present and past, and to interpret the resulting panorama with a compositional style all her own.
Contact: Carol Moore, carol(at)hemi-sync(dot)com, (434) 263-8692.