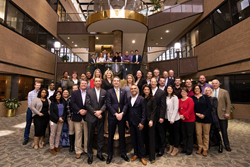 From its inception, Paymerang has transformed the way businesses pay their suppliers electronically, enabling them to be more efficient, secure and profitable
BETHESDA, Md. and RICHMOND, Va. (PRWEB) March 19, 2018
Aldrich Capital Partners today announced that it has made a $26 million growth investment in Paymerang, LLC, a leading provider of electronic payment solutions for businesses.
This investment will buy out company investors and help Richmond-based Paymerang grow in the Procure-to-Pay space with new jobs, products, sales channels and operational infrastructure. Paymerang intends to significantly expand operations in the Richmond metro area and add over 100 jobs over the next five years.
"From its inception, Paymerang has transformed the way businesses pay their suppliers electronically, enabling them to be more efficient, secure and profitable," said CEO Nasser Chanda. "We are proud of what Paymerang has delivered to our clients over the years and excited about the journey ahead. Our market is ripe for innovation and we intend to work fast to develop solutions to the complex problems businesses face today. To be able to do this from Richmond, with our incredibly dedicated Paymerang team and this backing from a top-caliber investment group like Aldrich, is a dream come true."
The Procure-to-Pay market is primed for disruption, with manual, paper-laden processes that create friction between businesses. Paymerang's founder, Steve Winston, along with talented company employees, delivered a revolutionary way to help businesses automate supplier payments with elegant simplicity and a proven reduction in accounts payable's work.
Now, Paymerang is armed with capital and support to expand throughout the procurement cycle, facilitating the automation of the accounts payable and accounts receivable functions. Improving the entire cycle will help Paymerang achieve its vision of enabling "The Perfect Payment."
"Aldrich Capital is the entrepreneur behind the entrepreneur," said Mirza Baig, founding partner of Aldrich. "We are delighted to invest in an innovative company like Paymerang that is defining the future of business payments. We think very highly of the employees and the management team, and know this will be a wonderful journey.
"Procure-to-Pay is in the process of disruption and Paymerang is the vehicle to do it," Baig added. "We expect to provide significant operational support to rapidly grow Paymerang through organic and acquisition-based growth. This is a vast market that is still in early innings and we look forward to proving out our investment thesis over the coming years."
Aldrich Capital Partners helps private companies attain their growth objectives by tapping into the resources, knowledge base and network of relationships of the investment group, which has invested over $1 billion in technology companies since 1999.
Virginia Gov. Ralph Northam's visit Monday to Paymerang headquarters solidified Aldrich's milestone investment. Northam greeted the entire Paymerang team and spoke about the impact this financing will have on the Virginia economy.
"Virginia is proud to call itself home to innovators like Paymerang and I am pleased to join them in celebrating Aldrich Capital's investment in their future," said Governor Northam. "This significant step means Paymerang can provide even more entrepreneurs and businesses with the solutions they need to be more efficient, effective, and successful and as a result, have an even broader impact on the growth of 21st-century jobs and Virginia's economy."
Aldrich's $26 million investment represents the single largest investment in a financial technology company in the history of Virginia, according to CB Insights & CrunchBase.
"Aldrich Capital is the right partner for Paymerang at this stage," Chanda said. "Throughout the investment process, Aldrich's vision for Paymerang impressed us. Our values of ethics, teamwork and innovation aligned toward solving today's complex business problems. We look forward to Aldrich's support in building our talent, products, infrastructure, sales channels and acquisition strategies as we grow our leadership position in the industry."
ABOUT ALDRICH
Aldrich Capital Partners was formed by experienced investors who are successful entrepreneurs. The firm was started with the philosophy of being the entrepreneurs behind the entrepreneur by helping private companies attain their growth objectives. Since 1999 the Aldrich team has been responsible for over $1 billion in technology investments. Aldrich's principals are investors and operators, who bring their experience to bear from the strategic level down to the operational and business planning level. Aldrich's leadership and advisors bring many decades of experience executing transactions in sectors such as business services, software & cloud solutions, FinTech and healthcare IT. To learn more, visit http://www.aldrichcap.com.
ABOUT PAYMERANG
Paymerang was founded in 2010 with a simple goal: to deliver a solution that would facilitate electronic supplier payments for businesses—and generate profit in the process. Through its revolutionary simplicity, Paymerang enables clients to pay all their vendors electronically with a single payment file. By handling the entire process, from secure vendor enrollment to payment processing to payment reconciliation and customer service, Paymerang is able to offer efficiency that saves hundreds of hours of finance time, security that protects all types of payments from fraud, and financial rewards that turn accounts payable into a profit center. The company provides solutions for clients around the country in education, healthcare, media, manufacturing and beyond. Paymerang processes over $1.5 billion in payments annually to a network of over 60,000 suppliers from coast to coast, with 75 percent receiving electronic payments. To learn more, visit http://www.paymerang.com.