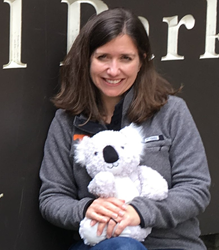 Kiwi the Koala grew out of my imagination to entertain and educate my own children to eat their fruits and veggies
NASHVILLE, Tenn. (PRWEB) March 26, 2018
Nashville Registered Dietitian Nutritionist Elizabeth (Beth) Dunlap announces the new perfect program for parents to feed picky eaters: Kiwi the Koala Nutrition Kit. Kiwi the Koala Nutrition Kit is designed as a fun, engaging and easy-to-use method that teaches toddlers and young children how fruits and vegetables help fuel their growing bodies. The kit includes colorful and entertaining Kiwi the Koala cards that feature a particular fruit or veggie on the front and illustrations on the back explain how that certain food helps the growing child. Parents today are more conscious about health and nutrition for their children and the cards provide an educated connection between the foods kids are being served and how it benefits them.
"Nutrition is so important and the earlier we expose kids to a variety of nutrient rich foods, the more open they are to trying it and building lifelong healthy habits,"
says Beth Dunlap, RDN, LD. "Kiwi the Koala grew out of my imagination to entertain and educate my own children to eat their fruits and veggies. I recognized that this concept would be fun, imaginative and helpful to other families as well."
Kiwi the Koala Nutrition Kit is an essential tool for getting young children to try new fruits and veggies in an exciting way. As both a mother and Registered Dietitian Nutritionist Beth Dunlap knows the importance and challenges of healthy eating and nutrition for toddlers and growing young children. The Kickstarter campaign for Kiwi the Koala Nutrition Kit launches on Thursday, April 12th.
The ABC's of How Kiwi Came to Be
A is for Animated Fruits & Veggies - Beth searched for animated cartoons of produce that are supposed to be attractive to kids. However, Beth found her two boys didn't really connect to the cartoons.
B is for Be Our Guest and B is for Benefit - When it was time to eat, lots of furry, cuddly guests would join her 2 boys at the table and soon the kitchen chairs were filled with the kids' favorite stuffed animals. Her sons would serve the animals what they were eating. As the kids grew, Beth talked to them about how the various fruits and vegetables help their animals grow healthy and strong. The boys started asking, "how does this help me grow?" when they were looking at the foods served to them at mealtime.
C is for Combining Them All Together! Fast forward to today and Beth has combined all these experiences into Kiwi the Koala! A fun, adorable way for kids to learn how fruits & vegetables fuel their growing bodies with mascot Kiwi the Koala!
Visit Kiwi the Koala Nutrition Kit's Kickstarter page at: https://www.kickstarter.com/projects/1091980645/1952264760?ref=436638&token=61c96a11 to pre-order the kit, meet the creator, and learn more about the ABC's of How Kiwi Came to Be.
Weblinks: http://www.KiwitheKoalaBear.com / http://www.twitter.com/KiwiandBeth / https://www.facebook.com/kiwithekoalabear/ / http://www.instagram.com/kiwiandbeth