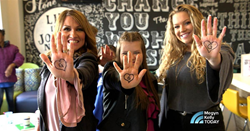 "Self-publishing provides a unique path for nonprofits to promote their cause." - Mitch Black, Author Solutions CEO
BLOOMINGTON, Ind. (PRWEB) March 20, 2018
Nancy Gianni, author of "#GenerationG – A True Story of Miracles, Hope & Unconditional Acceptance," was invited to launch her book this week on the Today show in honor of her daughter, GiGi and World Down Syndrome Day. Published by iUniverse, an imprint of supported self-publisher Author Solutions, the book tells how Gianni started and grew GiGi's Playhouse nationwide to help special-needs children and their families.
Author Solutions is the largest global self-publisher, having helped more than 225,000 authors bring their books to market around the world. Chief Executive Officer Mitch Black has noted a new trend in books: nonprofits are increasingly turning to self-publishing as an advocacy tool to speak directly to their audiences, raise funds and educate the public about their mission.
"Self-publishing provides a unique path for nonprofits to promote their cause," said Black. "Publishing a book creates something tangible for them to promote and sell, while garnering increased support through elevated credibility."
Gianni's self-published inspirational memoir was featured yesterday on the Today show, including a segment about GiGi's Playhouse, which provides play, therapy, education, advocacy and support to individuals with Down syndrome and their families. http://on.today.com/2FV8qTh
"I think self-publishing is an outstanding option for any founder of a nonprofit," said Gianni. "I was able to control my story, message and timeline, and speak directly to my readers."
All profits from the sale of "#GenerationG" will go toward GiGi's Playhouse to further their mission of global accepatance for all through Generation G.
Upon request, Black and Gianni are available for interviews.
About Author Solutions, LLC
Based in Bloomington, Indiana, Author Solutions, LLC, is the world leader in supported self-publishing. Author Solutions' imprints – AuthorHouse, iUniverse, Palibrio, Trafford Publishing and Xlibris – have helped authors self-publish, promote and bring to market more than 300,000 new titles. For more information, please visit http://www.authorsolutions.com. For the latest news, follow @authorsolutions on Twitter and "Like" us at facebook.com/AuthorSolutions.
About iUniverse
iUniverse, an Author Solutions self-publishing imprint, is a leading book marketing, editorial services and supported self-publishing services provider. For more information call 1-800-AUTHORS or please visit http://www.iUniverse.com and for the latest news follow @iUniverse on Twitter.
Interview Requests & General Inquiries:
LAVIDGE – Phoenix
Lauren Dickerson
480-306-7117
ldickerson(at)lavidge(dot)com
LAVIDGE – Phoenix
Danielle Grobmeier
480- 648-7557
dgrobmeier(at)lavidge(dot)com