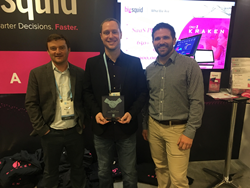 Domo's recognition and naming us Innovative Partner of the Year truly validates or organization's vision - Chris Knoch, Big Squid CEO
SALT LAKE CITY (PRWEB) March 20, 2018
Big Squid, Inc., the Utah-based startup that automates the power of Machine Learning and Predictive Analytics for business users through its Kraken Platform, is excited to announce being named Domo's Innovative Partner of the Year.
"Domo's recognition and naming us Innovative Partner of the Year truly validates our organization's vision and our team's hard work in creating our Machine Learning platform, Kraken," said Chris Knoch, Big Squid's CEO. He continued, "Today, business decision makers want to make smarter, faster decisions using machine learning and predictive analytics. The Kraken platform allows them to do this while also enabling data analysts to become Citizen Data Scientists and allowing their Data Scientists to scale across their organization."
If you would like more information about this topic, please contact Melissa Kirkeide, Director of Marketing at Big Squid, Inc. - 312.662.3585 or email at mkirk(at)bigsquid(dot)com.
About Big Squid: Big Squid specializes in all aspects of Business Intelligence, Data Science, Machine Learning and Predictive Analytics. With more than 650 data and strategic Business Intelligence platform implementations under their belt, Big Squid develops and implements innovative data science solutions that enable business users to identify and answer their key business questions faster. Seed Funding Press Release Series A Funding Press Release For more information, please visit http://www.bigsquid.com