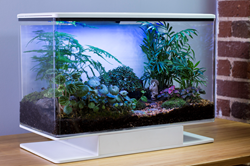 We want to make it easy for anyone, anywhere to have their own garden that is both beautiful and simple to maintain.
BARRINGTON, R.I. (PRWEB) March 20, 2018
After surpassing their funding goal of $50,000 within the first week of their crowdfunding campaign on Kickstarter, and ultimately raising over $95,000, the SmartTerra team announced their transition to Indiegogo's InDemand, bringing the fully customizable smart terrarium to Indiegogo.
"Our SmartTerra terrarium is like a theater full of high-tech features, such as thunder, rain storms, lightning storms and different colored lights, and the high color rendering index LED lights mean that SmartTerra more accurately illuminates in true color," said SmartTerra creator Suri Mujjalintrakool. "We want to make it easy for anyone, anywhere to have their own garden that is both beautiful and simple to maintain."
SmartTerra works with a smart application and uses a capacitive sensor that detects when the water level and moisture levels are low, which then alerts users when to fill the water tray, making it simple and convenient to use. In addition, SmartTerra provides high-intensity LED lights that act as a substitute for sunlight, so the terrarium can be used in places that do not receive much light. The terrarium has a built-in clock that tells SmartTerra when to turn on and simulate daylight, as well as when to turn off at night. SmartTerra's rain system also automatically waters plants when the soil is detected to be dry and air is circulated downward, alongside the unit, to eliminate condensation.
Additional features included with SmartTerra consist of speakers, allowing users to listen to the natural sounds of the environment included with the terrarium or the user's favorite music via a Bluetooth connection. The SmartTerra sound modes include ocean waves, rain, tropical rainforest, thunderstorm, beach soundscape and tranquility. The SmartTerra app lets users check real-time data about their ecosystem, schedule and play sounds or music, set daily nature features such as lightning or rain and receive alerts when it is time to fill the water tray.
SmartTerra has officially moved to Indiegogo's InDemand following their successful Kickstarter campaign and is currently available for pre-order on Indiegogo for a discounted price of $299. For more information about the campaign, visit bit.ly/SmartTerraIGG.
About SmartTerra
Suri Mujjalintrakool, the inventor of SmartTerra, remembers going to the zoo when he was young and was intrigued by the terrariums and reptile enclosures that simulated their natural environments. He believes typical terrariums are relaxing to look at, but are too static. Mujjalintrakool and his team want to create a terrarium that replicates the dynamic elements in nature with a sleek design and new approach to typical terrariums. For more information about SmartTerra, visit bit.ly/SmartTerraIGG.