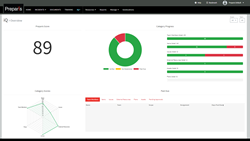 Most organizations, especially smaller and medium sized companies, lack the resources to have someone maintaining their business continuity and cybersecurity plans full time. Preparis iQ was designed to help reduce the amount of time and effort it takes to manage these plans."
ATLANTA (PRWEB) March 20, 2018
Preparis, a business continuity, incident management, and emergency notification software and services provider, has just released a new version of their plan management and compliance tool, Preparis iQ.
Just under one year ago, Preparis acquired Contingency Planning & Outsourcing (CPO) & CPOtracker which they renamed Preparis iQ. Preparis iQ provides real-time intelligence into organizational compliance and readiness, and allows you to manage your business' regulatory compliance initiatives.
In this upgrade, the software tool not only got an updated look, but also several new features, including a Compliance Calendar which allows users to set due dates for upcoming deadlines, the ability to assign those items to team members, and a Compliance Score to show how ready your organization is to respond to and recover from a disruptive incident or audit.
"Most organizations, especially smaller and medium sized companies, lack the resources to have someone maintaining their business continuity and cybersecurity plans full time. Preparis iQ was designed to help reduce the amount of time and effort it takes to manage these plans," said Charles Pearson, CEO at Preparis.
Another new feature of Preparis iQ is that it is integrated with the Preparis Incident Management Portal for a streamlined approach to overall business continuity.
"You no longer have to log into two separate platforms to manage your business continuity programs," said Pearson, "rather, you have everything you need in one place – emergency notification, incident management, training, executive reporting, and resources in the Preparis Portal, and the ability to manage plans and compliance initiatives in Preparis iQ."
For more information on Preparis iQ, visit http://www.preparis.com/iq.
If you would like to see a free demo of Preparis iQ, visit http://www.preparis.com/request-demo/.
###
About Preparis
Preparis is an all-in-one business continuity and emergency notification solution that helps businesses protect their people, operations and brand while meeting regulatory requirements. The company's unique combination of technology and services makes creating and maintaining business continuity programs easy. For more information about Preparis, please visit http://www.preparis.com or call (855) 447-3750.