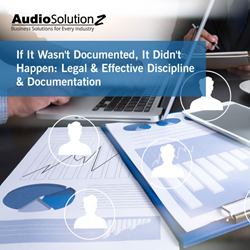 Learn the value of fair and consistent discipline—and how it impacts your employees and your organization.
DURHAM, N.C. (PRWEB) March 21, 2018
AudioSolutionz, a division of audio conference and corporate education leader ProEdTech, will host the live webinar "If It Wasn't Documented, It Didn't Happen: Legal & Effective Discipline & Documentation" with veteran training professional Judi Clements on Thursday, March 29, 2018 at 1:00 pm ET. Clements will explore the process of how to discipline employees—and document your corrective efforts effectively and legally.
In our litigious society, it has become more and more important for managers and supervisors to know how to document any and all employee discipline efforts. In this session, veteran training professionals Judi Clements will give managers a "crash course" in safe, legal, and effective disciplinary practices and documentation.
In this instructive session, you will discover how to separate poor performance from poor attitude, counsel employees, write performance improvement plans, and use practical strategies to nip performance problems early before they escalate. You will also learn to keep a legal performance log to document both good and substandard performance.
After attending this session, you will be well equipped to use discipline as a management tool for improving employee performance and boosting productivity—while also protecting your organization from adverse legal action. Plus, you'll how to fire an employee, the right way.
The session will teach HR professionals and analysts how to:

Analyze poor work performance and help employees turn it around
Avoid the negative consequences of inadequate documentation and discipline
Use a wide range of disciplinary options
Respond quickly and appropriately to common disciplinary infractions
Keep legal performance logs
Distinguish between subjective and objective documentation
Work with employees to develop performance improvement plans
Protect yourself, other managers, and your organization from legal landmines
For more information and to register, visit: https://www.audiosolutionz.com/hr-compliance-employment/legal-effective-discipline-documentation.html
Get $40 off on our conferences and webinars. Use Code PRWEB40 on checkout (applicable for all purchases).
About ProEdTech
ProEdTech is a leading source of knowledge and training for professionals in over 15 industries, serving individuals, businesses and their employees around the globe. It offers webinars, online conferences, seminars, boot camps, books, DVDs, white papers, industry reports and other learning tools from industry experts and insiders who provide a fresh perspective on key issues, trends and regulations in order to simplify governance, risk and compliance (GRC) for enterprises and industry professionals.
ProEdTech's AudioEducator webinars offer updates, regulatory knowledge and information on the latest news in various medical specialties, as well as coding and billing updates, and analysis of regulations that affect ambulatory surgical centers, home health, long term care and hospice facilities, hospitals and healthcare systems, health insurers and physician practices. Webinars are also offered through AudioSolutionz in the technology, human resources, construction and housing, ICT and telecom, manufacturing, consumer packaged goods and retail, safety and security, transportation, energy and environment, education, trade, and chemicals industries. ProEdTech's Eli Financial platform offers tax and banking professionals, focusing on providing high-quality online training products customized for U.S. lenders and tax practitioners that include the latest updates from the IRS, CFPB and other regulatory authorities. Lawyers across the United States depend on Eli CLE for top quality online continuing legal education (CLE) programs, which can be completed for MCLE credits.
ProEdTech regularly provides professionals the opportunity to get answers to their most complex questions directly from experts, without having to attend costly live conferences. To learn more, visit: http://www.proedtech.com/.